A 2000-watt portable inverter generator is an ideal addition to your camping gear or RV equipment. A generator with this capacity can also charge essential appliances during a power outage. Many inverter generators are available with 2000 watt power output, and selecting the best one for your needs can be difficult. All of them are easy to carry and connect to devices. If you are a frequent traveler, then a 2000-watt inverter generator is a must-have for emergency situations.
My Top Picks of the Best 2000-watt Generators
Once, when I've been camping, I encountered the problem of charging some of my devices that require more power compared to sensitive electronics like phones and laptops. This was when I started looking for the best 2000-watt generator to keep in my RV.
Since there are so many models available on the market, I took up the challenge to find the most efficient 2000-watt generator without any second thoughts. The most important features I focused on was the run time and noise level. Since I was already planning to keep a generator in my RV, the weight wasn't a problem. However, I was pleasantly surprised to find out that most of my reviewed models are pretty lightweight.
The 2000-watt generators that I have included on my list are gas-powered and run for an average of 8 - 7 hours. For you to understand what a 2000-watt inverter generator can power, here is what I tested each of them on:
Electric stove
660-watt microwave
TV
Small coffee maker
Pump
Heater
Laptop, and smartphones
This article looks at the best 2000-watt inverter generators on the market today to help you decide which one fits your needs. There are ten inverter generators in total with detailed descriptions, features, pros, and cons.
If you are running out of time and need to make a quick decision, I have prepared a brief but detailed table below. By clicking on a model, you will be redirected to the in-depth review of the selected brand.
Best 2000 Watt Generators: Our Top Picks
1. WEN 56200i
I have placed the WEN 56200i in the first place on my list as this model offers the best value for money and offers enough efficiency. Even after testing the other generators, I keep coming back to this model. Thanks to its powerful motor, user-friendly features, and low price tag, it is the best 2000-watt inverter generator.
Features and Benefits
The WEN 56200i has a 79.7 cc 4-stroke OHV engine that delivers 1600 watts of rated power and 2000 watts of peak power. While this energy rating is lower than that of the Westinghouse iGen2500, it was still enough for me to power essential appliances during a blackout. You can notice an ergonomic handle which makes it effortless to carry. Moreover, it is quite lightweight, so you can carry it in and out of your RV without a problem.
The WEN 56200i features a pull-start system and a one-gallon fuel tank. At a load of 50%, I managed to run this unit for six hours before having to refuel. With a THD rating of less than 3%, two three-prong 120-volt AC outlets, a 5-volt USB port, and a 12-volt DC outlet, I powered all of my appliances, including sensitive electronics, without any issues.
Pros
Available at an affordable price
Automatic shutdown at low oil levels
Overload protection
Parallel connection capability to link another generator
Eco-mode to save fuel and backup power costs
Cons
Power delivery is relatively low
The unit has a tall profile
Conclusion: After testing it, Wen 56200i is sufficient for camping and outdoor use. It has features that are easy to learn how to use and will not confuse those who are using a generator for the first time. You can power many devices without a worry, too, and keep them overnight.
WEN 56200i 2000-Watt Gas Powered Portable Inverter Generator, CARB Compliant
Dimensions: 18" x 11" x 18" | Weight: 48 lbs
Noise Level: 53 dB operation
EPA III and CARB Compliant 79.7 cc 4-stroke OHV motor produces 2000 surge watts and 1600 rated watts
Great for campgrounds, construction sites, tailgates, and power outages
Produces clean energy to safely operate and prevent damage to sensitive devices such as phones, tablets, televisions, and computers
<Click Here For A More In-Depth WEN 56200i Review>
---
2. Honda EU2000i
Second best 2000-watt generator on my list is Honda EU2200i. When I was researching generators, this one was quite popular. For quite some time it was also my go-to option when I needed a reliable and durable backup energy source.
Features and Benefits
Honda EU2000i uses the Honda GX100 motor, which delivers 2000 starting watts and 1600 running watts. This power transmission is sufficient for a wide range of applications, including small construction projects and backup power for household appliances.
When I first opened the parcel, I immediately noticed the unit's solid build quality and an air-cooling mechanism that offers protection against overheating (which I found a very useful addition). The generator offers the best longevity options, too. It is lighter than the WEN 56200i and offers a longer run time.
Thanks to an eco-throttle feature, the EU2000i is highly efficient. At a 25% load, you can run the generator for up to eight hours. If you ramp the unit's power output up to 100%, you can run it continuously for up to three hours.
Pros
Operating noise level is lower than 60 dBA
Relatively long running time
Air cooling for added protection
Low-oil alert system
Cons
Relatively high price
Outdated manual recoil start system
Conclusion: Honda EU2000i is ergonomic and powerful for an RV or outdoor use. It is pretty powerful and has overheating protection. Moreover, it runs quietly, and you can surely use it on a campsite.
Honda 662220 EU2200i 2200 Watt Portable Inverter Generator
This popular model can operate a wide variety of devices, making it perfect for portable use at home, camping, on the job site, or much more. Reliable Power is now at your fingertips with Honda's Inverted Generators.
So quiet, your neighbors will thank you. The EU2200i operates at 48 to 57 dBA, which is less noise than a normal conversation. This makes it ideal for camping, supplemental vehicle power, and any other activity that requires quiet operation.
Add a second EU2200i for additional power. Two identical models can be paralleled with an optional cable or cord for up to 4400 watts of power or time-consuming applications.
Thanks to the exclusive Eco-Throttle System, the EU2200i offers excellent fuel efficiency. It runs 4.0 to 9.6 hours on a single tank, depending on the load. This makes it the ideal choice for overnight power or long-time applications.
Honda's inverter technology means stable, clean energy in a smaller, lighter package. The precision of Honda inverter technology ensures our inverter generators produce power that is as reliable as the power you get from your outlets at home.
<Click Here For A More In-Depth Honda EU2000i Review>
---
3. Generac GP2200i
I decided to purchase Generac GP2200i because of the many benefits it has. For this very reason, I have placed this 2000-watt generator in third place. It features a long-running time, seamless integration with other backup power devices, and durable construction.
Comparing it to the WEN 56200i, Generac GP2200i is slightly heavier and can power your electronics continuously for over 6 hours, but it is considerably louder.
Features and Benefits
When buying the Generac GP2200i, you will be able to power more demanding devices as this model features a reliable Generac OHV 80 cc motor with a power output of 2200 starting watts and 1700 running wattage. This relatively high wattage allows for multiple applications.
I was testing the GP2200i at a 50% load, and I managed to get the full seven hours. The long run time is due to the unit's large fuel container, which has 1.2 gallons. The only disadvantage that was a bit annoying was the noise.
If you need to have your generator supplying you with energy for longer, I would recommend using an eco-mode, which optimizes motor operation to minimize fuel consumption at lower loads.
Another small detail that I really appreciated is the start dial. A quick turn of the dial brings Generac to life, making it easy for anyone to operate.
Pros
Longer continuous running time at high loads
The starting knob makes for easy operation
Compact dimensions and lightweight
Large fuel capacity and eco-mode
Cons
Loud operation at around 70 dBA
Overall quality can be improved
Conclusion: After testing Generac GP2200i, I found it useful to have an eco-mode that lets you save fuel and power your smaller electronics for longer. It is effortless to start, easy to carry, and it has an overall good-looking design.
Sale
Generac 7117 Gp2200I W 50St Inverter, Orange
It is quiet, compact, and effortless to use. AC rated output running wattage is 1700, AC maximum output starting watts is 2200. Rated 120 VAC Amperage-14.1
Truepower technology provides clean, stable energy ideal for electronics, tools, and devices, while the 1.2-gallon tank allows 10.75 hours of run time at a 25% load
Built-in handle makes it easy to transport, and the integrated OFF/RUN/CHOKE knob simplifies startup procedures
Economy mode provides excellent fuel economy and noise reduction while the LED status lights alert you on low-oil, overload, and power
Parallel ready allows you to connect two inverters together for twice the power (parallel kit model 7118 sold separately)
<Click Here For A More In-Depth Generac GP2200i Review>
---
4. Westinghouse iGen2500
I was happy to get a hold of the new model from Westinghouse - the iGen2500. For those who don't know much about generators, Westinghouse is an established brand in the power industry. This generator offers efficient energy distribution, exceptional quality, and extra features for optimal portability.
Features and Benefits
The first thing that caught my eye is the design of the generator, it truly stands out among other models. The Westinghouse iGen2500 is another 2000-watt generator that features a manual recoil start system and a 98 cc OHV engine with a 3.4 HP rating.
After testing it, I can surely say that the unit performs relatively well in terms of power transmission, with 2200 watts of rated power and 2500 watts of peak power. Despite these high ratings, the iGen2500 operates at a low noise level of only 52 dBA, which is always a great advantage. So you can freely use it in residential settings.
I managed to use it continuously for 10 hours at 25% loads, which is also impressive for a one-gallon tank. I found it ideal for powering appliances in an outdoor setting or during extended power cuts.
Pros
Portable weight of only 49 pounds plus a carrying handle
Total harmonic distortion (THD) rating of less than 3%
Parallel connection ability for use with Westinghouse iGen inverters
Safety features that include low-fuel shut-off and spark arrestor
Cons
The engine is difficult to start
A relatively high price tag
Conclusion: Westinghouse iGen2500 is a great generator to power many appliances for a long period of time, it is not very loud, and has a few safety features. The only downside here is the recoil start system which can be a bit problematic to use.
<Click Here For A More In-Depth Westinghouse iGen2500 Review>
---
5. Champion 2000-Watt
The generator that I fully trust to power my sensitive devices is the Champion 2000-watt generator. It is very compact, lightweight, and also features clean sine wave delivery.
Features and Benefits
The Champion 2000-Watt comes with a 4-stroke engine with an 80-cc displacement as well as an overhead-valve design to ensure optimal heat dissipation and fuel consumption. The engine puts out 2000 watts of peak power and 1700 watts of running power.
With its one-gallon tank, I was able to use the Champion 2000-Watt for up to nine hours at a 25% load, minimizing gas refilling times.
This unit features the latest in backup power technology that includes stacking. By combining two of these models, you can achieve a current output of 3000 watts. I also tested the economy mode settings, and it reduced fuel consumption and increased the running time.
Pros
Clean sine wave delivery
Compact and lightweight
Decibel rating of 52 dBA at 25% load
Ideal for RV owners
Cons
No DC breaker
No plug for oil draining
Conclusion: After testing it, I really liked its ergonomic designs and a comfortable handle. The Champion 2000-Watt is truly easy to transport and store in your car.
<Click Here For A More In-Depth Champion 2000-Watt Review>
---
6. Briggs And Stratton P2200
I couldn't go past the Briggs and Stratton P2200. As soon as I unpacked it and started using it, it appeared to be very user-friendly. This 2000-watt inverter generator is also affordable, and you won't have to break the bank to buy it.
Features and Benefits
The Briggs and Stratton P2200 features a 111-cc OHV engine that uses fossil fuel and generates 1700 running watts and 1200 surge wattage. This current output is relatively small and is generally not ideal as a backup power source for households. However, its compact size and low weight make it the perfect camping or motor home accessory.
With a tank capacity of one gallon, I managed to power my devices with the P2200 for up to eight hours at a 25% load. It also has a low noise level of 59 dBA. Later I found out that several features contribute to the low noise levels, including the Super Lo-technology and pre-installed muffler.
The P2200's Quiet Power Technology is another noteworthy feature. This technology doesn't only reduce the engine's noise, but it also enhances fuel efficiency and reduces gas emissions.
Pros
Low noise level
Compact and lightweight
Quiet Power Technology
Long continuous run time
Cons
Relatively low power output
High price
Conclusion: I found Briggs and Stratton P2200 ideal for recreational and outdoor applications. Although it has a low running watt, it has other great features to reduce the noise and emissions.
Sale
Briggs & Stratton P2200 Power Smart Series Inverter Generator with Quiet Power Technology and...
Quiet and fuel-efficient 111 cc OHV engine produces 2200 starting watts and 1700 running watts
The USB ports allow charging portable electronics in order to stay connected
Parallel connector port allows connection between 2 units for a more power 1-gallon fuel tank for up to 8 hours of continuous operation at 25% load, USB port allows charging of portable electronics in order to stay connected
The parallel connector port allows connection between 2 units for more power
<Click Here For A More In-Depth Briggs and Stratton P2200 Review>
---
7. Yamaha EF2400iSHC
Another popular generator that I could wait to test is Yamaha EF2400iSHC. It is an eco-friendly and powerful generator that can charge many electronic devices.
Features and Benefits
The EF2400iSHC is a high-power 2000 inverter generator with a 4-stroke, 171-cc, 5.5-HP gas engine with an air-cooled overhead valve. The unit has a running current output of 2000 watts and a peak output of 24000 watts.
The first advantage you will benefit from is an excellent warranty. Moreover, it has several exceptional features, including Pulse Width Modulation, to provide your electronics with stable, quality power.
The EF2400iSHC's gas engine speed adjusts automatically to your energy needs to save fuel. With its large 1.6-gallon fuel tank, the generator can run for as long as 8.6 hours at a 25% load.
For optimal portability, the EF2400iSHC features an aluminum die-cast frame and a TCI rotor, as well as a lightweight flywheel. At 75 pounds, this generator is still relatively heavy, but it makes up for the added weight with higher power output.
Pros
Compact and powerful generator
Easy to transport
Eco-friendly technology
Stable power for sensitive electronics
Conclusion: Although I had to spend more money on Yamaha EF2400iSHC, I was still pleasantly surprised with its powerful generator that is able to provide stable energy supply to my electronics. An impressive 8 hours of the running time is also an amazing feature when traveling for a weekend gateway.
Yamaha EF2400iSHC, 2000 Running Watts/2400 Starting Watts, Gas Powered Portable Inverter
Increased motor starting capability and improved air conditioner starting
Provides energy that is as clean or cleaner than commercial power and adjusts the engine speed to precisely match the load
Prevents engine damage caused by low oil, avoiding costly repairs and minimizing downtime, adding customer confidence and peace of mind
Improved efficiency, increased reliability, quieter operation, and easy portability; cast iron cylinder liner provides long engine life and consistent performance during continuous use
It will run most 13500 BTU RV air conditioners, microwave/convection ovens, or even the biggest hair blow dryer
Fuel type: Gasoline
<Click Here For A More In-Depth Yamaha EF2400iSHC Review>
---
8. Yamaha EF2000isv2
I decided to add the younger brother of the Yamaha EF2400iSHC - the Yamaha EF2000isv2. In my opinion, it is also a great generator, although it has slightly lower efficiency.
This 2000-watt inverter generator has a unique appearance and a user-friendly design. This model is a worthy consideration if you are looking for a backup generator to take with you on RV trips.
Features and Benefits
Over the time that I was testing the Yamaha EF2000isv2, it offered exceptional fuel efficiency, clean electricity, and reliable current output. With its original Yamaha engine, this generator puts out 20000 starting watts and 1600 running wattage - which is overall not bad at all.
This energy transfer was sufficient to charge my home appliances and personal electronics such as phones and laptops. The generator's voltage output is stable and safe for sensitive devices with pure sine wave technology that features Pulse Width Modulation.
The generator features a fuel tank capacity of 1.1 gallons, and, at a load of 25%, you can expect a run time of 10.5 hours. This unit may not be the most powerful, but it runs quietly at a rated noise level of 51.5 dBA at a 25% load.
Pros
Silent operation
High-performing Yamaha engine
Long-running time on one tank
Easy-to-use
Conclusion: From my experience, Yamaha EF2000isv2 features a nice design with an ergonomic handle, stable power supply for 9-10 hours. I could charge my phone and laptop overnight without any problems. The only reason this generator might not be for some is that it lacks USB outlets.
<Click Here For A More In-Depth Yamaha EF2000isv2 Review>
---
9. Generac IQ2000
ANother ideal addition you can consider for your RV is the Generac IQ2000. It is lightweight, so it is easy to use anywhere. Its working time is enough, about 6-7 hours, and it works silently. If you are not familiar with generators, this one will be fairly easy to use. I found it quite reliable, too, with some nice features.
Features and Benefits
What I really like about Generac IQ2000 is that it offers plenty of functions. However, the one particular display I think is extra useful is a fuel meter which indicates how much gas there is in the tank. This generator's engine delivers 2000 starting watts and 1600 running watts.
Although the running wattage can be a bit low for some, it has a fuel capacity of 1.06 gallons. At a load of 50%, you can expect a run time of up to 5.7 hours. At a 25% load, the generator can run up to 7.7 hours before you have to refuel.
At a 25% load, the IQ2000's noise rating is 53 dBA at twenty feet. This noise is relatively low and ideal if you need backup power in a residential area. This generator is also easy to use with a single dial that integrates start, run, and stop functions.
Pros
Silent operation
Easy-to-use
Suitable for powering sensitive electronics
Wattage and fuel meters
Cons
Not suitable for high-altitude use
Conclusion: The Generac IQ2000 is user-friendly and lightweight; however, its running wattage can be low to power more demanding electronics. Having that said, it can last you for up to 7 hours before you have to refuel. Some of the features it has are also handy for daily use.
Generac 6866 iQ2000 Super Quiet 1600 Running Watts/2000 Starting Watts Gas Powered Inverter...
AC Rated Output(Running/Starting): 1600/2000 Watts; AC Rated Voltage: 120V
PowerDial integrates start/run/stop functions into 1 easy-to-use dial
PowerBar monitors and displays wattage used; Electronic Fuel Gauge displays remaining gasoline; Runtime Display shows how much time is left before refueling
Fuel Capacity: 1.06 Gallons; Runtime (50% - 25% Load): 5.7 - 7.7 hrs; Full Load Fuel Consumption (gallons/hour): 2.85; Displacement: 80 cc; Oil Type: SAE 10W-30
Economy, Standard, and Turbo modes of operation save gasoline and reduce noise
<Click Here For A More In-Depth Generac IQ2000 Review>
---
10. Powerhorse 42411 2000-Watt Generator
Last but not least in my list is the Powerhorse 2000 inverter generator. Like most of the generators with the same wattage, it has an ergonomic design and is quite lightweight. This generator is portable and can be easily stored in the trunk of your car or RV. The Powerhouse 2000 produces stable and clean power with less than 1.5% THD.
Features and Benefits
As for me, the most significant benefit of the Powerhorse 2000 is the clean power that it produces for your electronics and appliances. With less than 1.5% total harmonic distortion, this generator's current output is entirely safe for powering sensitive devices, including computers.
Coming in at 52.2 pounds, the Powerhorse is relatively lightweight, and the unit also has a compact design for easy transport, handling, and storage. Another valuable feature of this unit is an engine smart control system, which uses microprocessors to monitor engine speed and efficiently match your energy needs. Therefore, you won't be worrying about leaving your devices connected.
The Powerhorse has a rated noise of 52 dBA at a load of 25%, which is on par with similar models. You can also connect the unit in parallel to other similar generators to double your power output. However, if you plan to charge small electronics, one generator should be more than enough, as in my case.
Pros
Safe power for sensitive electronics
Lightweight and compact
Silent operation
Engine smart control system
Conclusion: Although the Powerhouse 2000 cannot power bigger appliances, I would totally trust it with smaller electronics. The other reason for adding this generator to the list is its engine smart control system which I find reliable and handy. And for those looking for a model that produces clean energy, the Powerhouse 2000 produces power with less than 1.5% THD.
<Click Here For A More In-Depth Powerhorse 42411 2000-Watt Generator Review>
---
FAQs
What Can A 2000 Watt Generator Be Used For?
Portable inverter generators are a common power source for systems and home appliances. Inverter generators are mainly used to provide power in the event of a power outage. It is also used in disaster relief efforts when portable generators can be taken from one location to another because they are less expensive and more efficient to operate than diesel engines.
A generator with a 2000-watt running power output is relatively small, and the average household cannot use it to power all appliances and electronic devices simultaneously. However, 2000 watts are sufficient for powering essentials such as refrigerators, lights, and cell phone chargers during the outage or when traveling in your camper.
These generators are also compact and easy to load on the back of a truck or inside an RV. The physical size and power output of these units make them ideal for: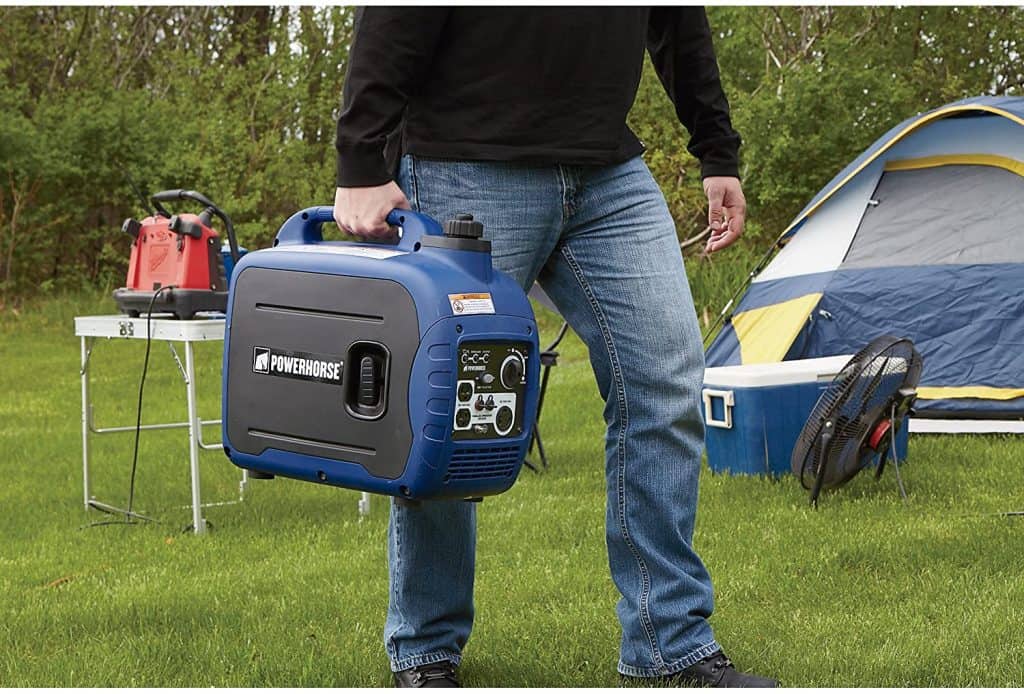 What Can You Run On A 2000 Watt Generator?
Portable inverter generators are top-rated among campers, tailgaters, and homeowners. They are typically 2000 watt inverter generators with gas-powered engines which provide the user with sufficient power to run typical devices like laptops, TVs, game consoles, and other small appliances.
You can power most household appliances with a 2000-watt generator, but not simultaneously. Appliances and devices that people commonly power with these generators include:
Lightbulbs
Refrigerators or freezers
Laptops, tablets, and cell phones
Televisions
Microwave ovens
Toasters
What you can power with a generator of this size depends on the power requirements of the appliance.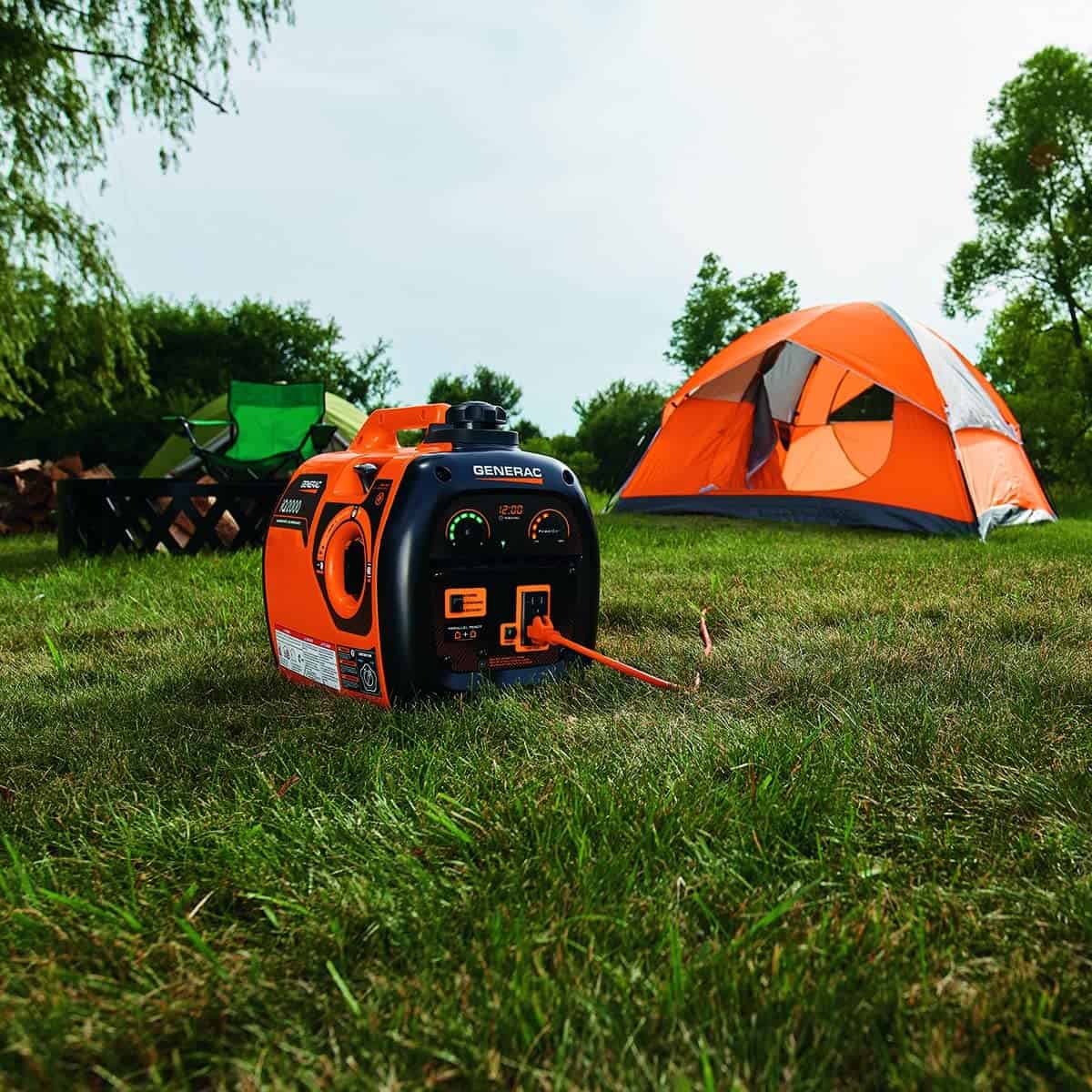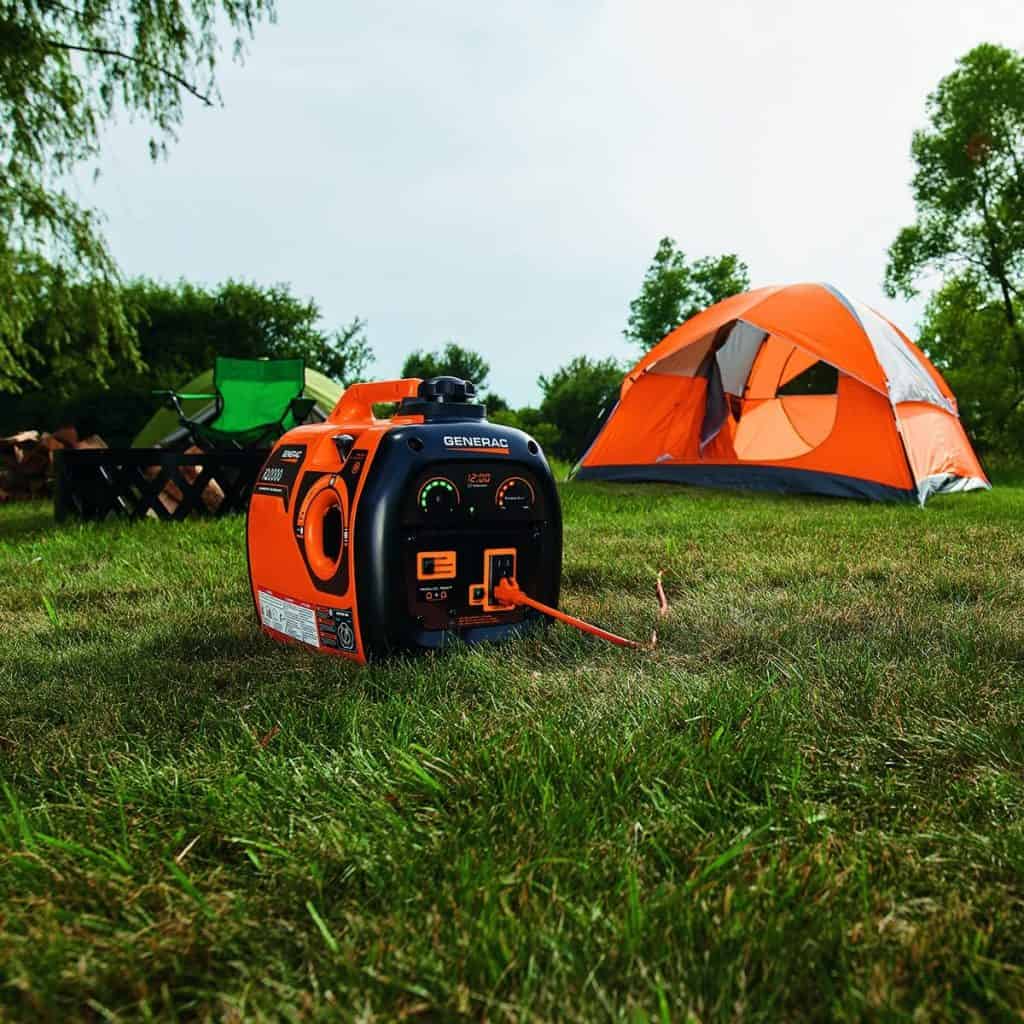 Can A 2,000-Watt Generator Run A Refrigerator?
The average refrigerator compressor requires about 1200 watts to start, but then it drops to about 200 running watts. If you use a 2000-watt generator, you can comfortably power a refrigerator, provided that it is the only appliance it powers when the fridge is starting up.
When the refrigerator is running, you'll have about 1,800 watts at your disposal to power other appliances. All 2000-watt inverter generators can handle a refrigerator and other heavy devices; however, when connected to one thing at a time. You can opt for Honda generators, Wen 56200i, or any other inverter on the list.
What Is the Quietest 2000-Watt Inverter Generator?
Generators are used for various purposes. They can be used in emergency situations when power is cut off, for outdoor events, during the power outage, and so on. Generators are typically loud and emit high noise levels, which can be problematic when you need to use them in crowded areas or near residential areas where noise levels should be much lower.
The quietest inverter generator among all is Yamaha EF2000isv2; its noise is 51.5 dBA at 1/4 load. You can freely have a normal conversation next to this generator without disturbing you. Thanks to its sophisticated muffler, the noise of 51.5 dBA is similar to a household refrigerator. It also comes at a greater price but features high-quality build materials that will last a long time.
Alternatively, you can consider purchasing a Champion 2000-watt generator that has a decibel rating of 52 dBA at a 25% load which is a bit louder than Yahama. Another great option is a WEN 56200i generator which noise levels are at 53 dBA that is more affordable than Yamaha, and has no less useful features.
Looking For More Grunt? Check Out These Reviews
The Best 4,000-Watt generators
The Best 5,000-Watt generators
The Best 10,000-Watt Generators
---
Summing Up
A 2000 watt generator is a cost-effective backup source of power for your home or RV. When shopping for a new generator, pay attention to power distribution, running time, and output voltage stability for sensitive devices. A generator for camping trips or RV appliances should, ideally, also be compact and lightweight.
WEN 56200i 2000-Watt Gas Powered Portable Inverter Generator, CARB Compliant
Dimensions: 18" x 11" x 18" | Weight: 48 lbs
Noise Level: 53 dB operation
EPA III and CARB Compliant 79.7 cc 4-stroke OHV engine produces 2000 surge watts and 1600 rated watts
Great for campgrounds, construction sections, tailgates, and power outages
Produces clean power to safely operate and prevent damage to sensitive devices such as phones, tablets, televisions, and computers