Best 10000 Watt Generators On The Market Today

When crisis hits, a heavy-duty 10000-watt generator will keep all major appliances running in your home. Your food won't spoil, your family won't overheat, and you'll be able to stay informed via local news updates. That's why we recommend investing in a generator for your home before it's too late. Why?
Because, hurricanes, wildfires, blackouts, and other extreme weather conditions leave an increasing number of homes and families without electricity each year.
I have tested and reviewed the top ten 10000 watt generators on the market today. After perusing this list, keep reading to learn more about key features you should consider when making your purchase. You'll also find answers to the most frequently asked generator-related questions.
Best 10,000 Watt Generators: Our Top Picks
To save yourself some time, take a look at our summary list of the best 10000 watt generators, categorised by purpose. Whether you're looking for 10000 watt portable generators, a fuel-efficient generator, or simply the best all-round solution on the market, it will point you in the right direction.

You can find all of the items mentioned in this table (as well as some other great options that didn't make the cut) in the list below. Not only does it contain detailed descriptions of each generator, but also an account of my personal experience with these machines and their effectiveness at providing me with a stable electricity supply.
1. Westinghouse WGen9500DF
The Westinghouse WGen9500DF is one of the most highly rated and popular generators currently available in the 10000 watt range.
It's intuitive to use and extremely efficient. I loved its dual-fuel capability and the long runtime, ensuring that I had enough power to use for an entire day.
Plus, it has a three-year limited warranty and meets all of the highest safety and environmental standards.
Features and Benefits
The control panel has two ground fault circuit interpreters, which allow you to run more appliances at once without tripping the breakers. It has a 120v 5-20R duplex receptacle and an L-14-40 twist-lock outlet control that lets you run at either 120v or 240v.
You'll have 9500 running watts from the WGen9500DF on gas and 8500 on propane. It also has a 6.6-gallon gasoline tank and the ability to connect to a standard propane tank. With a full gas tank and a grill-sized propane canister, you can run the WGen9500DF for 17.5 hours.
The remote start feature allows you to turn on the generator with the push of a button.
Pros
Remote Start
Dual-fuel capacity
High efficiency
Westinghouse Outdoor Power Equipment WGen9500 Heavy Duty Portable Generator 9500 Rated 12500 Peak...
9500 Running Watts and 12500 Peak Watts; Remote Start With Included Key Fob, Electric and Recoil Start; Up to 12 Hours of Run Time on a 6.6 Gallon Fuel Tank With Fuel Gauge
Features Two GFCI 120V 5–20R Standard Household Receptacle, One Transfer Switch Ready 120V L14-30R, One RV Ready 120/240V 14–50R, and Two 5V USB Ports; All Outlets Have Rubber Covers for Added...
Powered by a Heavy Duty 457cc Westinghouse 4-Stroke OHV Engine Featuring a Long-Lasting Cast Iron Sleeve With Automatic Low Oil Shutdown and Digital Hour Meter
Plug-and-Play: Comes With a Remote Start Key Fob, 12V Battery Charger, Oil, an Oil Funnel, a Tool Kit, and a User's Manual to Get You Started Right Out of the Box (Minimal Assembly Required)
All Westinghouse Portable Generators are Functionally Tested in the Factory and May Contain Minimum Residual Oil and/or Fuel Odor; EPA and CARB Compliant; Backed by 3-Year Limited Service, Labor, and...
< Click Here For A More In-Depth Westinghouse WGen9500DF Review >
---
2. DuroMax XP12000EH
The DuroMax XP12000EH powered by a DuroMax 18HP engine is a versatile, generator with dual fuel technology ready for any situation that may arise.
It includes four different types of power inputs. I never found myself limited by the number of appliances I could run when testing it out in a blackout scenario.
Features and Benefits
As one of the most powerful generators on our list, the XP12000EH has a power output of 12,000 watts, with a run time of 20 hours on a tank of propane gas or for 10 hours with gasoline. Producing 72 dB of sound from around 20 feet away, the noise of the 457cc engine won't interrupt your household. I have also found that it is quite versatile, and ensures a steady power flow, regardless of the intensity of your activities.
Pros
Low-oil smart shutoff
Long-lasting
Versatile
Quiet
DuroMax XP12000EH Generator-12000 Watt Gas or Propane Powered Home Back Up & RV Ready, 50 State...
Powerful DuroMax Engine: the XP12000EH is powered by a DuroMax, 457cc OHV engine.
Dual fuel technology: the ability to run on propane or gasoline allows the freedom and flexibility of fuel choice.
Plenty of power: with 12,000 starting watts and 9, 500 running watts, This unit can handle heavy loads from lights and a refrigerator to a home air conditioner and high amperage power tools.
Maximum power: with DuroMax MX2 technology, get the maximum power from each of the 120 volt receptacle. Choose between operating the generator at both 120 V and 240 V Simultaneously, or at 120 only...
Powering everyone anywhere: like all DuroMax generators, the XP12000EH is EPA and CARB approved For use in all 50 States.
<Click Here For A More In-Depth DuroMax XP12000EH Review>
---
3. DuroStar DS10000E
If you're looking for a capable generator that's also affordable, consider the DuroStar DS10000E.
It isn't fancy, but it provides enough grunt to get you through any power outage. During my time with it, I was impressed by how fuel-efficient this generator is, with enough running power to support multiple appliances without burning through your fuel supply too quickly.
Features and Benefits
The DS10000E can run 8,000 watts with its air-cooled, 420cc OHV engine. At 50% capacity, it runs for 10 hours, allowing you to go all night without refuelling its 8.3-gallon gas tank. It does, however, only have two 120v three-prong outlets, which limits the number of appliances that can be powered while using it.
Pros
Budget-friendly
Quiet
Lightweight
3-year warranty
Cons
Only two 120v three-prong outlets
DuroStar DS10000E Gas Powered Portable Generator-10000 Watt Electric Start-Home Back Up & RV Ready,...
POWERFUL DUROSTAR ENGINE: The DS10000E is Powered by a 18HP 440cc OHV Durostar Engine.
Powerful Engine – The DuroStar 439cc OHV engine is a workhorse that provides plenty of power to handle multiple jobs, from powering high voltage appliances to heavy duty power tools
Idle Control – Lowers the RPMs of the generator when not in use, saving fuel and reducing noise. Ideal on the job site where power is used intermittently
MX2 Technology - Get the maximum power from each of the 120-volt receptacles. Choose between operating the generator at both 120V and 240V simultaneously, or at 120V only with full power. Ideal for...
Fully Featured Power Panel – The power panel includes a wide selection of outlets for maximum compatibility in your applications including: (2) 120V household GFCI outlets, (1) 120V 30A twist lock...
---
4. All Power America APGG10000GL
If you spend time camping, traveling, or performing construction tasks, you'll want a generator that can go with you. I was amazed by how much punch a single portable generator can pack, especially considering how quiet it is!
There's no need for multiple generators when you purchase the All Power America APGG10000GL.
This easy-to-move unit is ready for any terrain or situation thanks to its flat-free wheel kit.
Features and Benefits
The 8-gallon fuel tank will run for 11 hours at 50% of its 10,000-watt peak power. It only produces 76 dB of noise when running at 8,000 watts of power draw.
Pros
Quiet
Easy to transport
Electric start
Flat-free wheels
All Power America APGG10000GL 10000 Watt Dual Fuel Portable Generator with Electric Start 10000W...
Important note: all shipments require a working phone Number to schedule delivery and proper Address for the unit to be shipped out, or your order may be delayed or cancelled
10000 watt peak power, 8000 watt rated power(GAS); 8500 watt peak power, 7000 watt rated power(LPG)
15 HP 420cc OHV air cooled engine. Runs 11 hrs @ 1/2 load
Fuel Capacity: 8 gallons; Operating Noise level: 76 dB; Electric start button & recoil start
4x AC Duplex 120V outlets; 1x 120v twist-lock outlet; 1x 120/240V twist-lock outlet; 1x 12V DC
---
5. Green-Power America GBG10000EW
When you want to feel prepared but don't expect to use your generator often, you need a reliable workhorse that won't hurt your wallet.
The Green-Power America GBG10000EW is a solid, affordably priced machine. It's quite loud for a modern generator, but it more than makes up for it with friendly functions such as the fact that it automatically shuts off when it's running low on oil. In my opinion, putting up with that extra bit of noise is worth it when taking into account the Green-Power America's durability and price.
Features and Benefits
Its compact size makes it easy to store when not in use. The option for either an electric start or manual recoil ensures that it will start when you need it.
The 6.6-gallon gasoline tank will run for up to 10 hours with a 50% load. Its various outlets all have removable rubber covers to protect them from the elements.
Pros
Great value
Durable
Automatic low-oil shutoff
Electric start or manual recoil
Green-Power America GPG10000CEW Pro Series Electric/Recoil Start Generator-10,000 Watts
PRO SERIES GENERATOR: 10,000 Starting Watts with 7,500 Running Watts. Designed for Home, Emergency, and Recreational Use
POWERFUL ENGINE: LCT 420CC, 15HP OHV Engine, Electric and Recoil Start, Operates at Only 75-Decibles
RUN TIME: Includes 3 in 1 Digital Indicator, 6.6-Gallon Tank Runs for up to 9 Hours on 50% Load
MULTIPLE OUTLETS: Includes Four 120-Volt AC Outlets, One 120-Volt Twist Lock AC Outlet, One 120/240 Twist Lock AC Outlet and One 12-Volt / 8.3A DC Outlet
WE POWER YOUR WORLD: EPA and CARB Approved for Use in all 50 States
---
6. A-iPower SUA12000E
Most 10,000-watt generators peak at 10,000 watts but run somewhere between 7,000 and 8,000. The A-iPower SUA12000E peaks at 12,000 watts and runs at 9,000 watts.
If you have high electricity needs, such as heavy-draw appliances like a home air conditioner, this is an ideal backup generator.
Thanks to the high-performance alternator built into this reliable machine, it allowed me to run more household items or tools at the same time than most other options on this list.
Features and Benefits
The available outlets highlight the increased running wattage. This generator boasts four 120v 20-amp outlets, one 120/240v 30-amp L14-30R, one 120/240v 50-amp 14-50R, and one 12v 8.3-amp adaptor plug. All include a plastic cover.
The one thing I can complain about regarding this higher-capacity generator is its shorter run time. The seven-gallon gasoline tank provides only 8.5 hours of runtime at a 50% load.
Pros
High-running wattage
Large fuel tank
Low-oil shutdown
2-year warranty
Sale
---
7. Ford 11050
For a durable, versatile generator that's ready for any terrain, consider the Ford 11050.
It's a bit heavy, but the 10-inch never-flat wheels help minimize the awkwardness of transporting it. What I loved most about this generator is the Switch & Go functionality that let me seamlessly switch between gas and propane without a break in power output.
Features and Benefits
An electric push start ensures that the 11050 is up and running quickly. You can expect loads around 9,000 watts on gasoline or 8,100 watts on LPG. An air-cooled, four-stroke single-cylinder OHV engine provides power to four duplex 120v 20-amp outlets, one 120v 30-amp twist-lock outlet, and one 120/240v 50-amp RV outlet.
Switch & Go technology allows you to transition between gas and propane without losing power to your home, RV, or construction equipment. This smooth source transfer is particularly important if you're running medical equipment.
Pros
Quiet
Seamless transition between gas and propane
Push start
Ford 11,050W Dual Fuel Portable Generator with Switch & Go Technology and Electric Start, FG11050PBE
11, 050W Peak/ 9, 000W Rated (Gasoline) & 10, 050W Peak/8, 100W Rated (LPG)
The powerful 457cc, Single Cylinder, 4-Stroke, OHV, Air Cooled Engine is protected by a Heavy-Duty Powder Coated Steel Frame
A Large 6. 6 Gallon High Capacity Fuel Tank gives you up to 10 Hours of Continuous Operation at half load when running on gasoline
Dual Fuel Capability lets you choose between Gasoline or LPG fuel sources for running your generator
Switch & Go Technology allows for seamless transitioning between LPG and Gasoline fuel sources while still in operation
---
8. Generac 7033 11kW
The Generac 7033 is a permanent generator designed to provide peace of mind.
Bad weather or power outages won't stand a chance with this generator protecting your home. If you want to continuously supply power to your home and not have to worry about damaging your equipment, this sturdy standby generator is your go-to machine.
Features and Benefits
A 200-amp transfer switch automatically transitions the house from grid power to the 7033. It produces a running 10,000 watts of power using propane or natural gas supply lines. You can choose whether the 7033 powers the entire house or only select essential circuits.
Pros
5-year warranty
Built in the USA
Quiet
Generac 7033 Guardian Series 11kW/10kW Air Cooled Home Standby Generator with Whole House 200 Amp...
True Power Technology delivers best-in class power quality (less than 5% THD) for smooth operation of sensitive electronics and appliances
Includes a 200 Amp NEMA 3 (indoor / outdoor rated) whole house smart transfer switch
Generac's Evolution Controller features LED indicators for generator status, utility power presence or maintenance required
Tough, durable all-weather aluminum enclosure offers 3 removable sides for easy access for installation, service and maintenance
Battery Not Included. Generac battery model 5819 sold separately.
---
9. Briggs And Stratton 40450
In places that frequently lose power, you don't want to bother dragging out the generator every time you need it.
The Briggs and Stratton 40450 is a permanent unit capable of powering up to a 4,200-square-foot home.
It only needs 18 inches of clearance from your home, which means you can use it even within the tightest lot lines.
Features and Benefits
The Symphony II power management system ensures that your high-demand home appliances run on separate circuits. With this, you can keep everything on without risking a circuit overload.
Pros
Permanent fixture
Uses existing natural gas connection
100-amp transfer switch
Cons
Requires professional installation
Briggs & Stratton 40449 10000-watt Home Standby Generator System with 100-Amp Automatic Transfer...
Includes 100 amp, 16 circuit pre-wired automatic transfer switch with flexible indoor/outdoor installation
10 kW with Symphony II Power Management module sold separately can manage a home, up to 4,200 sq. ft. with a 3-Ton air conditioner saving you thousands less than a previously required 20 kW
Convient installation - 18 in. from your home per the National Fire Protection Agency 37 standard
Built from the Galvanneal steel used in the automotive industry for long-term durability
5 Year Limited Best in Class Warranty that covers parts, labor, and travel for the full-length of the warranty. Unlike other standby generator manufacturers, our warranty covers parts, labor AND...
---
10. Gentron GG10020
Planning for disaster situations can be hard on your wallet.
The Gentron GG10020 is an affordable alternative to the more expensive generators on our list.
It doesn't have all the bells and whistles you find on other units, but it will keep your home appliances running, and with a decent fuel tank capacity, I found that its runtime is not far behind some of the more expensive options (though I did have to struggle a bit with the initial set up).
Features and Benefits
The GG10020 runs at 8,000 watts with a 10,000-watt peak. The 8-gallon fuel tank lasts for 11 hours, making it easier for you to get a full night's sleep without worrying about the power going out.
Pros
11-hour runtime
Easy to move
Budget-friendly
Cons
Not the easiest to use
Loud
Gentron Power Equipment GG10020GU 10,000-Watt Gasoline Powered Electric Start Portable Generator,...
IMPORTANT NOTE: All Shipments Require A Working Phone Number To Schedule Delivery and Proper Address For The Unit To Be Shipped Out, Or Your Order May Be Delayed Or Cancelled
420cc OHV Air Cooled Engine
Peak 10,000 Watts Rated 8,000 Watts, Runs 11 Hours At 1/2 Load
Not CARB Approved, EPA Approved
Includes Hour Meter, Maintenance Free Battery and Wheel Kit, 4x AC Duplex 120V Outlets; 1x 120V Twist-Lock Outlet; 1x 120/240V Twist-Lock Outlet; 1x 12V DC
---
10,000-Watt Generator Buying Considerations
Not everyone requires the same features in a generator. That's why it's crucial to choose one with specifications that meet your needs. Below we've compiled a list of our most important considerations when buying a 10000 watt generator.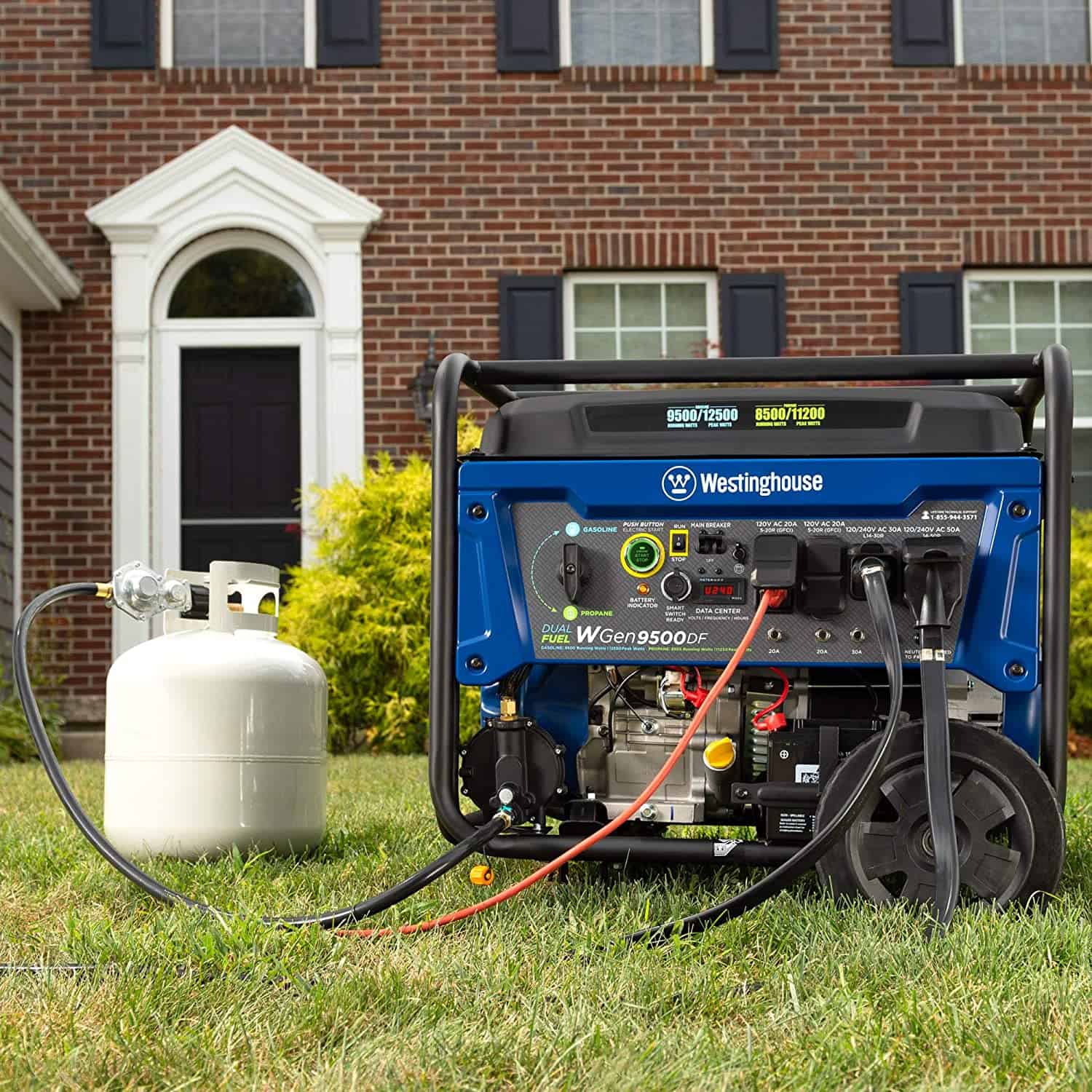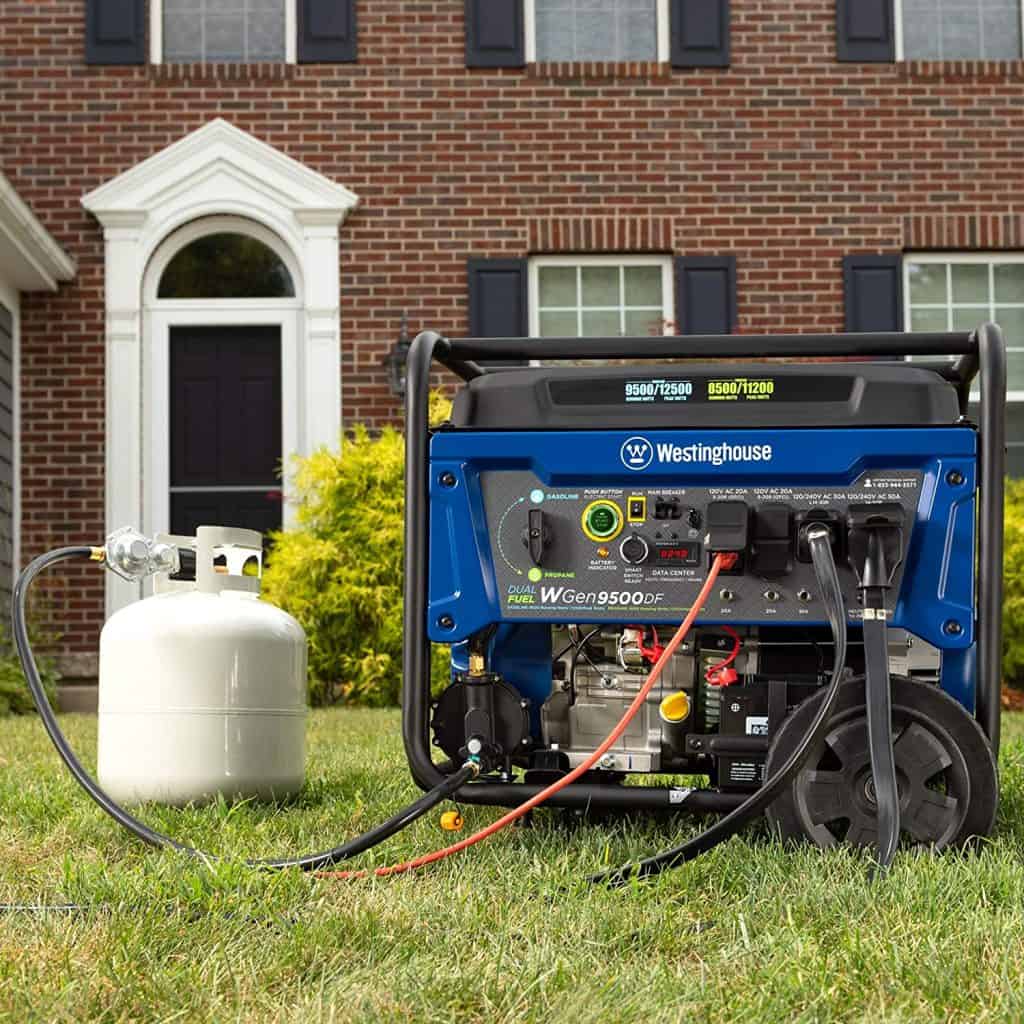 Price
Not all generators are of the same quality or have the same capabilities. As a result, you will see a wide price range across available units. Bargain 10000 watt generators are nowhere near as efficient, quiet, or lightweight as the more expensive models, nor do they have the same long-term warranties.
Fuel Type And Availability
Generators typically run on either gasoline or propane. Dual-fuel units allow you to choose between the two. It's best to go with the fuel type that's most readily available in your area.
Gasoline provides higher output than propane but needs to cool down before refueling. You can switch propane tanks as soon as they run low, and it's easy to store numerous backup tanks. Proper propane storage is necessary, however, to prevent the risk of an explosion.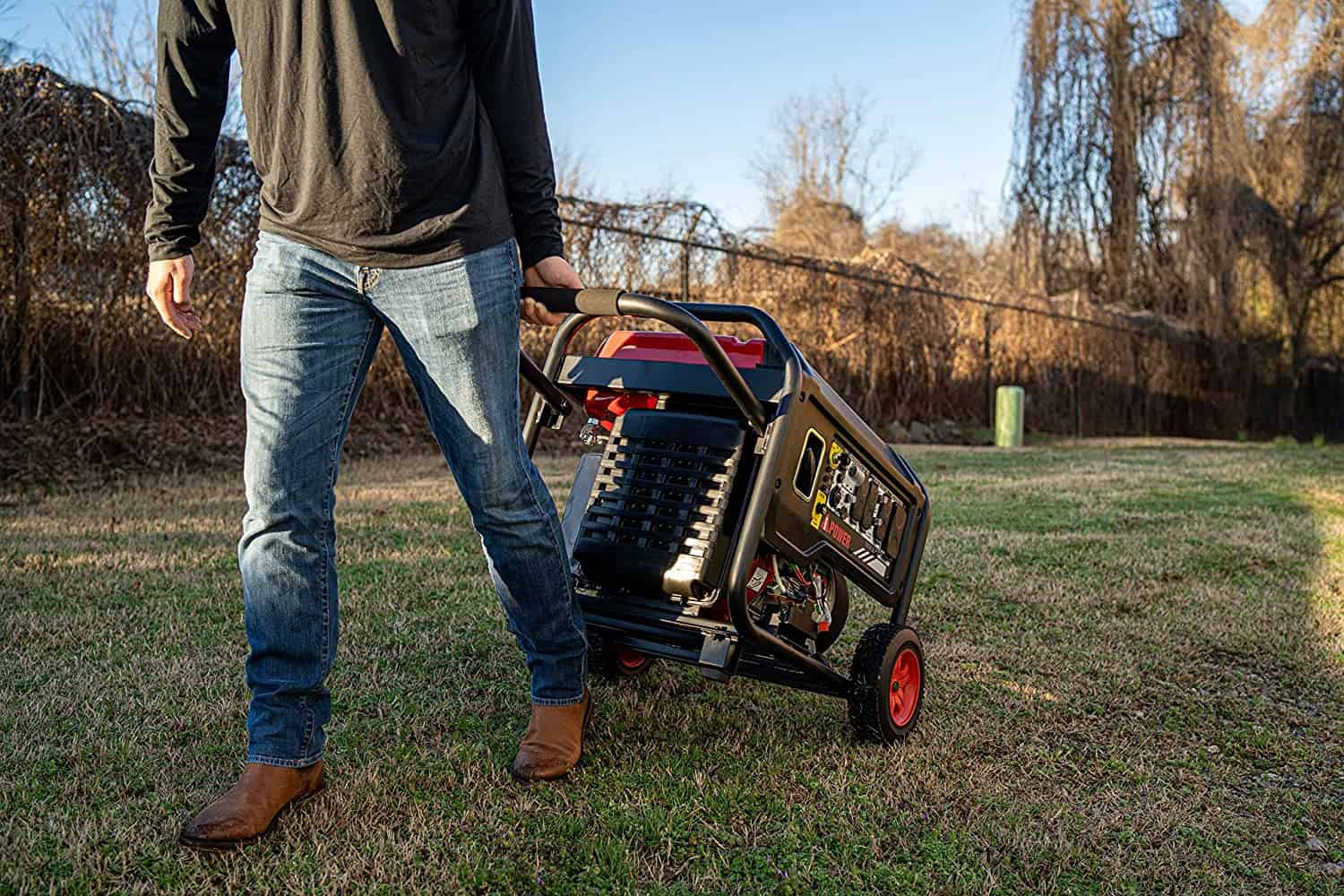 Noise Level
There's no such thing as a silent—or even quiet—high-wattage generator. Many on our list do feature a lower operational decibel rating. Most people find noises between 70 and 74 dB tolerable. Anything higher can affect your quality of life or hearing. Smaller generators generally run quietly if that's important to you.
Power Outlets
The best generator for you will have an adequate number of outlets available on its control panel to meet your electric needs. Be sure to check both the voltage and amperage of the unit. Some generators have the right number of outlets but are not equipped to power larger household appliances.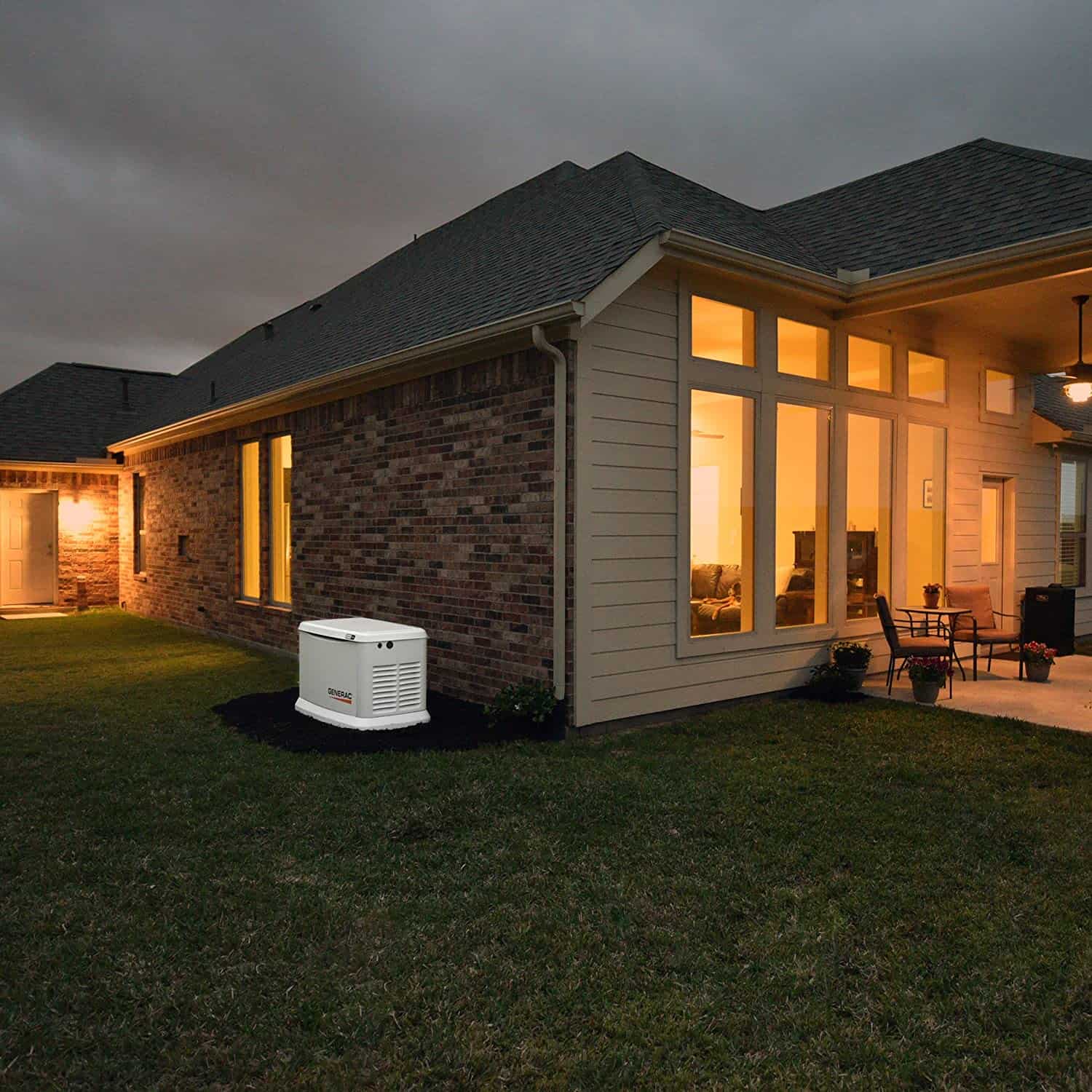 Warranty
A generator is an investment that you want to last for a long time. It's crucial to purchase a unit with a comprehensive warranty. Check with the seller to be certain you understand what the warranty covers. Ideally, your unit has coverage for at least two years.
Looking For A Smaller Generator? Check Out These Reviews
The Best 2,000-Watt Portable Generators
The Best 4,000-Watt Portable Generators
The Best 5,000-Watt Portable Generators
---
FAQs
What Can You Run On A 10000 Watt Generator?
A 10000 watt generator will power most critical household appliances. Don't forget to check whether the individual outlets can handle the amp load of the item you plug into it. Devices with higher power needs sometimes pull too much current for the generator, despite falling comfortably under the wattage limit. Check the user manual for the specific power outputs of the outlets.
When Is A 10000 Watt Generator Needed?
In the past, one would only have seen 10,000-watt generators on construction sites. With extreme weather patterns and frequent power outages, they have become ideal for supporting the power needs of single-family homes. A 10,000-watt generator can handle your refrigerator, fans, and lights until power returns.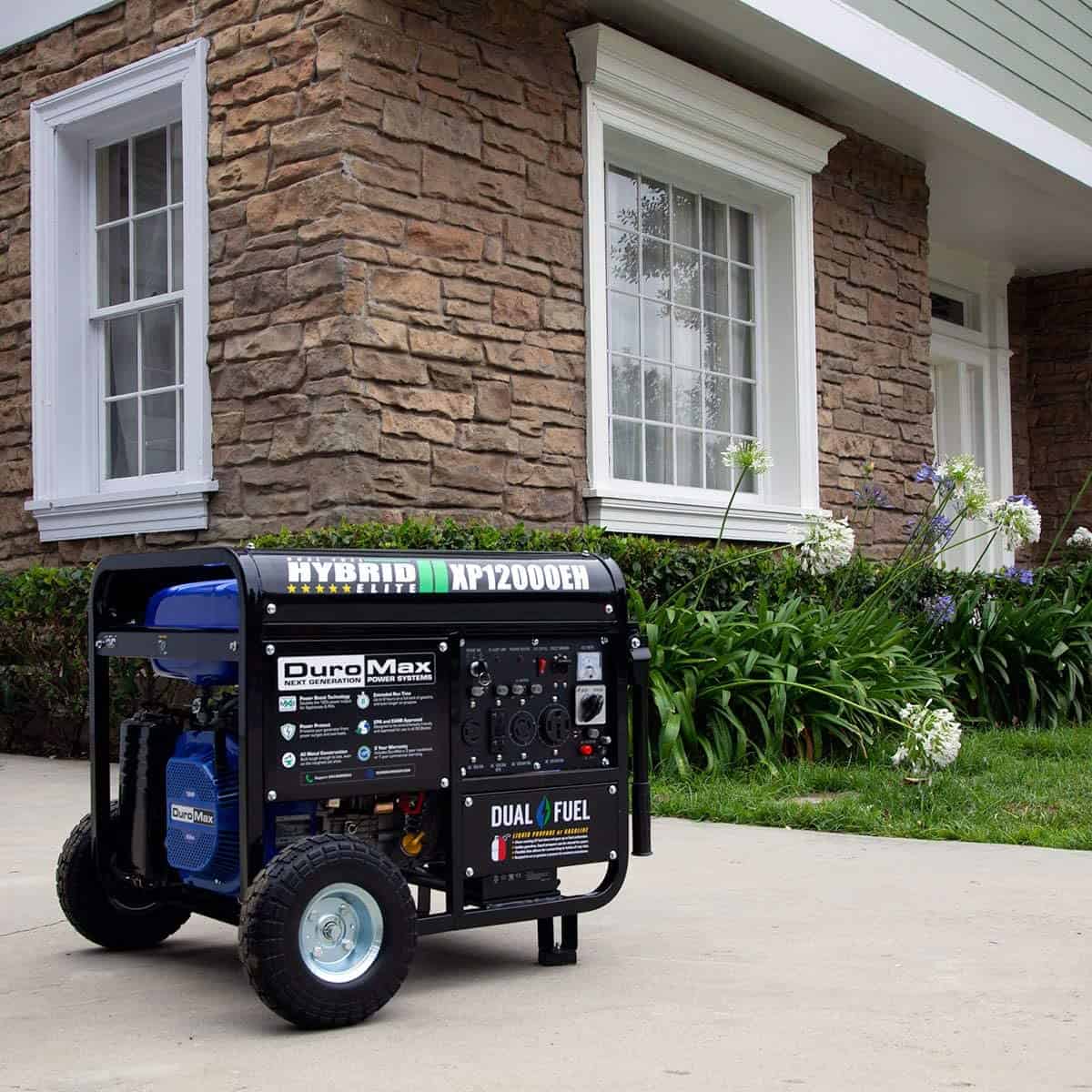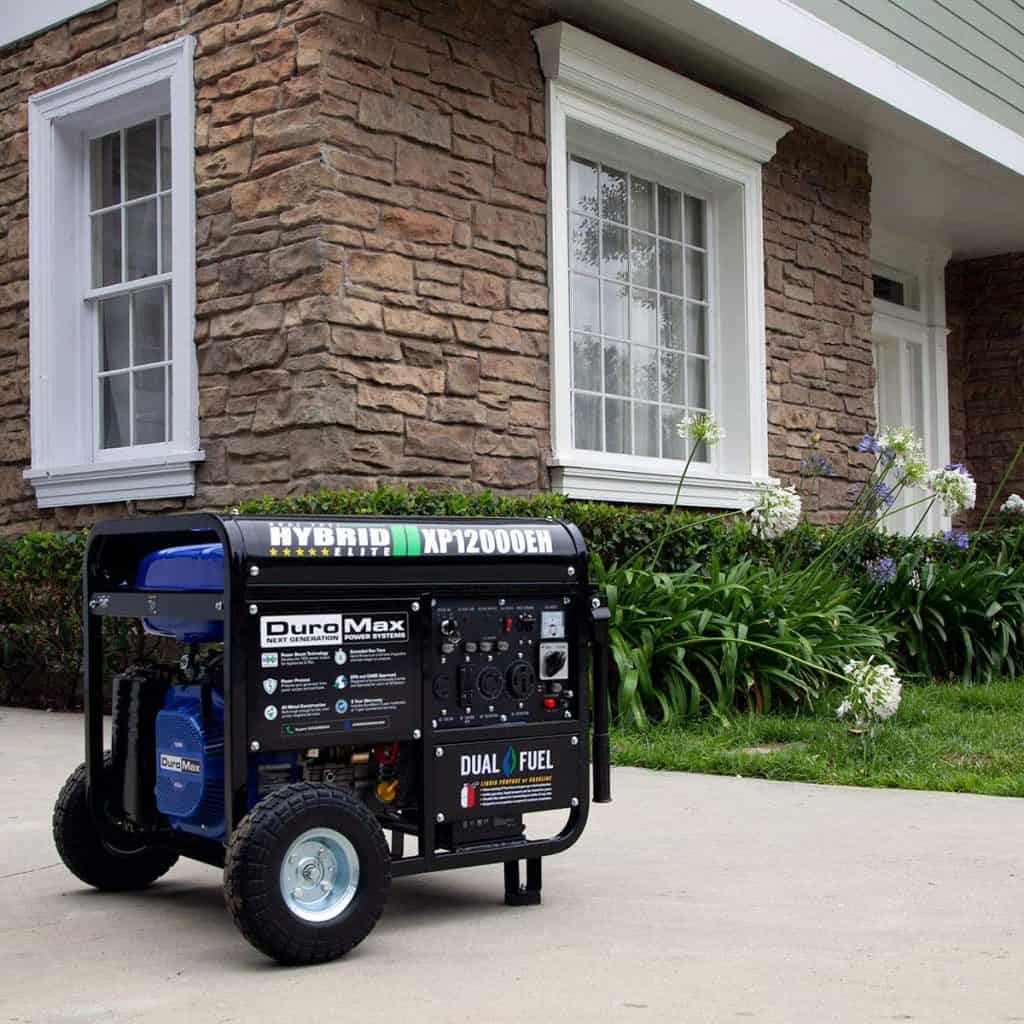 How Noisy Is A 10000 Watt Generator?
A generator makes the most noise when you start it. After you flip the switch, the sound reduces to a more constant rumble.
In terms of noise levels, most generators are comparable to an OHV. Quiet 10,000-watt generators fall into the 70-75 dB range. Louder units and ATVs are closer to 100 dB. More info on noise levels available here.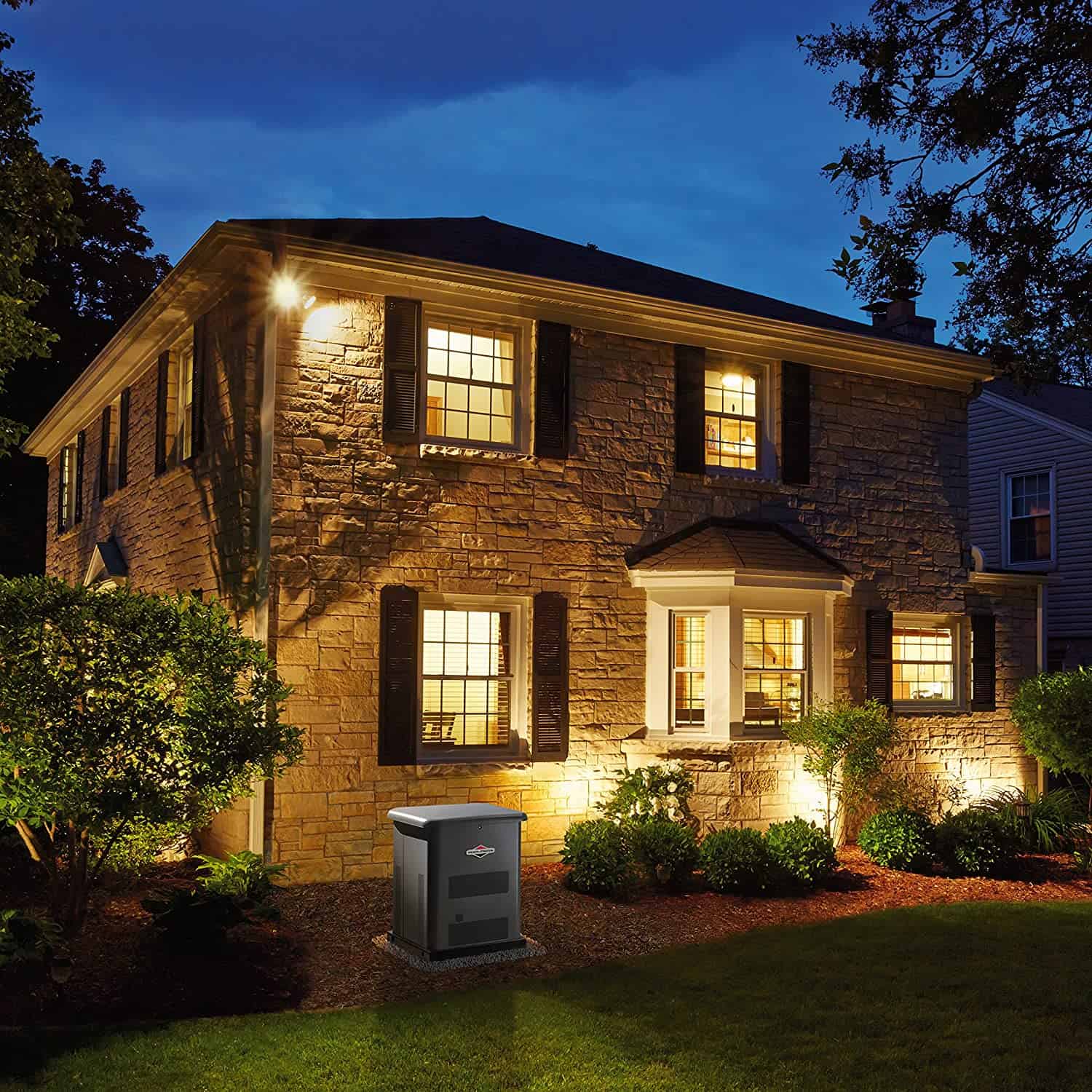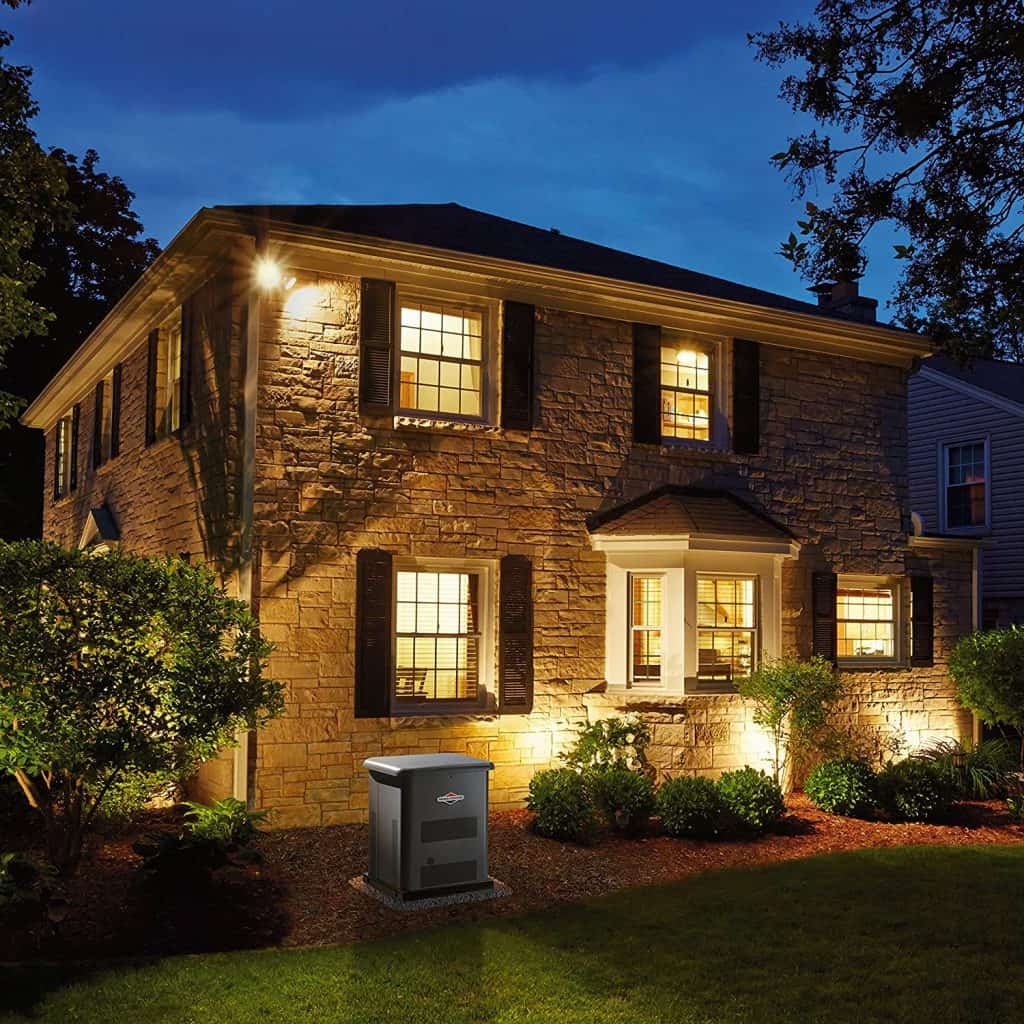 How Much Fuel Does A 10000 Watt Generator Use?
The amount of gas a 10000 watt generator uses depends on the type of generator, the size of the tank, and its runtime.
A conventional portable generator requires 18 to 20 gallons of gasoline to run for 24 hours. An inverter generator only needs 8 to 10 gallons of gasoline for the same amount of time.
Mechanical issues, including low oil, can decrease your generator's efficiency, resulting in the need to refill the tank more often.

---
Summing Up
All 10000 watt generators provide portable power for single family homes, worksites, or large RVs. The latest models come with a wide variety of features that get the job done while offering ease of use to the consumer.
If you choose any of the above generators, you'll likely find yourself pleased with the results.
DuroMax XP12000EH Generator-12000 Watt Gas or Propane Powered Home Back Up & RV Ready, 50 State...
Powerful DuroMax Engine: the XP12000EH is powered by a DuroMax, 457cc OHV engine.
Dual fuel technology: the ability to run on propane or gasoline allows the freedom and flexibility of fuel choice.
Plenty of power: with 12,000 starting watts and 9, 500 running watts, This unit can handle heavy loads from lights and a refrigerator to a home air conditioner and high amperage power tools.
Maximum power: with DuroMax MX2 technology, get the maximum power from each of the 120 volt receptacle. Choose between operating the generator at both 120 V and 240 V Simultaneously, or at 120 only...
Powering everyone anywhere: like all DuroMax generators, the XP12000EH is EPA and CARB approved For use in all 50 States.