A 5000 watt generator can power most of the standard appliances in your home albeit not all at once.
Still, if you live in an area prone to power outages or spend a lot of time working with tools with no dedicated power source nearby, the question of the best 5,000-watt generators available today is sure to come up.
Let's take a look at my selection of the top models on the market to simplify the process of choosing the right generator for your needs.
Best 5000 Watt Generators: Our Top Picks
1. Honda EM5000SX Portable Generator
Some brands hardly require a lengthy introduction as their popularity already speaks for them. Honda is one of them. The Honda EM5000SX portable generator comes in at a close second on my ranking thanks to its reliability and cutting-edge features designed for safe, steady operations.
I wanted to test this generator in harsh conditions, as one of its purposes is to be used outdoors. So I hooked it up to my friend's RV and took it on the road. This generator exceeded my expectations on almost every level.
Thanks to its open frame, it can be easily raised above ground level. The Honda 663640 EM5000SX is easily portable, too, thanks to the wheel kit and folding handle. Without this equipment relocating the generator could be relatively difficult due to its large weight.
Reliability and efficiency are two of the reasons why this generator is considered to be the best 5000 watt generator for RVs. In my opinion, one of its most valuable features is its built-in fuel gauge that allows you to check the gas level at one glance, which is very convenient.
The generator has many incredible features, but I really appreciated the Honda My Generator App, which gave me an easy, always at hand tool to have access to information about lifetime run hours, oil life, output power, and other parameters. The app can even notify you when it's time for routine maintenance. It's a really nice touch whether you're planning on using this generator in your home or on the road.
Main Features And Benefits
Steady Voltage Output: This portable generator features exclusive and advanced Intelligent Automatic Voltage Regulator technology to deliver stable power supply regardless of the load.
Fuel Efficiency: Enjoy over 11 hours run time at 50% load on its 6.2-gallon full tank capacity. You can turn it on, get a good night's rest, and still meet it running in the morning.
Reliable Engine: The Honda EM5000SX may not be the cheapest 5000 watt generator on the market, but it sure makes up for it with its 389cc, iGX390 OHV four-stroke engine. It also delivers as much as 7,000 watts for the first 10 seconds after turning it on so that larger appliances and tools can quickly be powered up at optimal levels.
Pros
Easy start-up with electric start
Extended runtime and excellent fuel efficiency
CARB compliant
Low noise rating of 63 dBA
IAVR safe, steady output technology
Cons
Price can be a bit prohibitive for budget buyers
The Honda EM5000SX portable generator is a reliable machine capable of powering your home appliances and power-hungry tools for years. If price is no issue, you should definitely consider it.
Honda 663640 EM5000SX 120V/240V 5000-Watt 389cc Portable Generator with Co-Minder
5,000-watt generator can power countless devices and appliances
Use to power your fridge, furnace, well pump, or other equipment around your home
Intelligent Automatic Voltage Regulation technology keeps voltage stable during operation for consistent power output
7,000-watt starting power for high initial amp equipment
Runs for 11.2 hours at 50 percent power; full power lasts 8.1 hours
<Click Here For A More In-Depth Honda EM5500SX Watt Review>
---
2. Generac 6672 5,500-Watt
The Generac 6672 5,500-Watt portable generator is a sturdy, reliable unit that delivers stable power output for your home's appliances, heavy-duty tools, and even RVs. I think that its most endearing feature is its PowerDial™ rapid start function which makes turning it on and off as simple as pushing a knob.
From the get-go, this generator made a great impression on me. It came with clear instructions containing illustrations, so assembling it was hassle-free. The Generac 6672 5,500-Watt generator powered my fridge, computer, lights, tv, and kitchen appliances without any issues.
The generator is easy to start. All you need is just one pool. It's a big advantage when there's no strong arm in the house to turn it on. And what surprised me the most was how quiet the unit actually is! Once again, no worries about the sleeping babies. The inclusion of a 4 way 240v cord is also a big plus in my opinion.
Main Features And Benefits
Powerful Output: This generator's 389cc OHV engine can power your refrigerator, air conditioner, sump pump, microwave, LCD TV, and other home appliances with ease. Around 5,500 watts is also more than enough to bring life to your large power tools.
Portable And durable: With an assembled weight of 171.8 lbs., the 6672 5,500W is not exactly lightweight, which is why we're grateful for the heavy-duty wheels and locking handle for easy portability. The generator is also encased in a hardened steel tube cradle, making it one of the most rugged units on this list.
Engine Protection: The engine of the Generac 6672 features a splash lubrication system, an automatic low-oil shutdown, and covered outlets. All of these protect the generator from damage.
Pros
PowerDial™ rapid start functionality
Extended runtime at up to 11 hours on a full 6.7-gallon tank
Engine protection
Rugged and sturdy design
Reliably portability
If ease of use and ruggedness is what you are after in a generator, you'll find that the Generac 6672 5,500-Watt portable generator is up to the task.
Generac 5945, 5500 Running Watts/6875 Starting Watts, Gas Powered Portable Generator, CARB Compliant
Generac's OHV engine with splash lubrication provides a long engine life
Low-oil level shutdown automatically safeguards engine from damage, and an hour meter to track maintenance intervals
Large-capacity steel fuel tank with incorporated fuel gauge provides durability and extended run times
Covered, circuit breaker protected outlets for added protection
Hardened steel-tube cradle for added durability and strength
<Click Here For A More In-Depth Generac 6672 5,500-Watt Review>
---
3. Champion 5,500 Watt Dual Fuel
Versatility and convenience - that's what you get with the Champion 5,500-Watt Dual Fuel portable generator. The fact that you can run this machine with either gasoline or propane right out of the box means you can look forward to a steady, reliable power supply when you need it.
The instructions that came with the generator are pretty straightforward, so there were no issues in getting it running. The unit is pretty big but not as loud as I predicted. It can be compared to a lawnmower.
I was testing it for about a week, and during that time, I didn't face any issues with this generator. I admit that having the option to fuel it either with gasoline or propane is a significant advantage for me. The only thing worth noting is that this unit has a battery-powered start, which might be problematic when the battery is dead.
Apart from that, I rate this generator as a solid option for those who are looking for something more flexible, but still reliant.
Main Features And Benefits
Patented Fuel Selector Switch: Switching between gas and propane for your Champion 5,500-Watt Dual Fuel portable generator is safe and easy thanks to this patented technology.
Intelligauge Feature: This option lets you monitor the voltage and runtime hours to keep track of the output over time. With this, you can keep a better eye on the machine's maintenance requirements and possibly increase its service life.
Powerful Engine: This generator's 389cc four-stroke engine clocks around 3,600 RPM. When running on gasoline, it pumps out 6,900 starting watts and 5,500 running watts. On propane, it delivers 6,250 starting watts and 5,000 running watts.
Pros
Dual-fuel capability
EPA certified and CARB compliant
Automatic voltage regulation
Three-year limited warranty with FREE lifetime technical support from Champion
Rugged and portable with never-flat tires and folding handle
Cons
Outlets and circuit breaker are not covered
Overall, the Champion 5,500-Watt Dual Fuel portable generator has more than earned its spot on this list. The dual-fuel capability and Intelligauge voltmeter will certainly serve you well.
Champion Power Equipment 100231 6900/5500-Watt Dual Fuel Portable Generator with Wheel Kit
Dual Fuel – Operate your 5500-watt portable generator right out of the box on either gasoline or propane, plus the unit holds 1.2-quarts of oil and has a low oil shut-off sensor
Fuel Safety Switch – Our patented fuel selector switch allows for quick and safe switching between fuel sources
Intelligauge – Keep track of voltage, hertz and run-time hours to easily monitor power output and track maintenance intervals
Outlets – One 120/240V 30A locking outlet (L14-30R) and four 120V 20A GFCI protected household outlets (5-20R)
Champion Support – includes 3-year limited warranty with FREE lifetime technical support from dedicated experts
---
4. A-iPower AP5000V Gas
The quietest 5,000-watt generator on our list, the A-iPower AP5000V Gas portable generator, is perfect for camping, open-air performances, and as a home backup power source.
This is also a positive surprise on my list. A-iPower AP5000V Gas is one of the best generators in this price range. The unit came with wheels and a handle, which is always a plus. The generator was easy to ensemble and was running in no time.
I tested it by running some electric appliances in my garage, and everything worked perfectly. It powered my refrigerator, lights, computer, and kitchen appliances for seven hours straight without any trouble. It might not seem like that at first glance (mainly due to its lower price), but the unit has no hidden flaws and performs exactly how it is supposed to.
It's relatively quiet, not very heavy, and can be an excellent solution for outdoor events and RVs.
Main Features And Benefits
Ultra-Efficient: Even with a fuel tank capacity of only four gallons, the AP5000V can still deliver an impressive 9-hour at 50% load. That's around a quarter of a gallon per hour.
Digital Data Center: On the control panel of the AP5000V, you'll notice this feature, which helps you keep track of the generator's status and run time over its lifetime. There's also a low oil level light indicator to notify you when it's time for a top-up.
Quiet Operation: With a noise level rating of only 58 dBA, the A-iPower AP5000V portable generator is even quieter than a normal conversation (60 dBA).
Good Engine: The A-iPower 223cc/7.5hp OHV engine pumps out a starting 5,000 watts and 4,000 running watts. That's enough to power your refrigerator, pump, TV, fan, and lights all at once.
Pros
Impressive fuel efficiency
Super quiet operation
High-performance alternator for higher peak wattage delivery
Conventional, open frame design with wheel kit and folding handle
Automatic low oil shut-off and an overload protection
Cons
Uses a traditional pull-start mechanism
A runtime of up to 9 hours on a 4-gallon fuel tank capacity is no easy feat, but the A-iPower AP5,000V Gas portable generator delivers with flawless ease. Plus, the quiet operation and rugged design make it perfect for those with an outdoorsy lifestyle.
A-iPower AP5000V 5000-Watt Gas Powered Portalable Generator | AP5000, 5000 Watt, Oranage
4.0 gallon, large heavy duty all steel construction fuel tank provides up to 12 hours of run time at 50% load
High performance alternator provides greater peak wattage which allows motor-driven appliances and tools to operate simultaneously
RV Ready. This generator is built with a TT-30R RV outlet for your convenience when Rving.
208cc / 7HP OHV, single cylinder, air-cooled, 4-stroke engine with manual start
Noise Level (dBA) -58 dBA @ 50% Load – 21' / 7m, 68 dBA – 75% Load @ 21' / 7m
---
5. Westinghouse WGen 5500 Portable Generator
The Westinghouse WGen 5500 portable generator tops my list, and it's not hard to see why. Its powerful 420cc four-stroke engine delivers a staggering 6,850 peak watts and 5,500 running watts. There's so much you can accomplish with its incredible runtime on a full tank.
I tested all of the 5000 watt generators on this list, and it's clear to me that the Westinghouse generator has the most to offer. It's very user-friendly and can power up all the necessities in your home, like light, fridge, home appliances, or even a water well pump.
It's very easy to set up - the whole thing took me about twenty minutes. It comes with wheels, as well as lift bars and an easy-to-follow manual, so the ensembling process is painless and easy.
Another highlight for me is the fact that the Westinghouse WGen 5500 has a really great runtime, especially if you're reasonable with your energy usage.
Main Features And Benefits
Efficient: Fuel-to-output efficiency is a big deal when considering the specs of any generator, and the Westinghouse WGen5500 doesn't disappoint. It features a 6.6-gallon gasoline tank that can deliver up to 15 hours operation with a 50% load.
Constructed For Durability: With its heavy-duty cast iron sleeve engine, this portable generator is built to stand the test of time.
Low Noise Level: At 72 dBA, the Westinghouse WGen5500 is one of the quieter 5000 watt generators available today.
Enhanced Protection Against Accidental Electrocution: This portable generator can detect faulty current transmissions and automatically shut off the flow to protect against accidental electric shock.
Pros
Powerful output
Transfer switch ready
EPA, CARB, and CSA compliant
Portable with roll bars, foam grip handle, and wheels
3-Year warranty and lifetime technical support
Cons
Pull-to-start function instead of the easier push-start button
The Westinghouse WGen5500 portable generator is not only durable and super-efficient but also easy to maintain. Definitely, the one to beat!
Sale
Westinghouse Outdoor Power Equipment WGen3600DF Dual Fuel (Gas and Propane) Electric Start Portable...
3600 Rated Watts & 4650 Peak Watts (Gasoline); 3240 Rated Watts & 4650 Peak Watts (Propane); 4 Gallon Fuel Tank (with Fuel Gauge); Electric Push Button and Remote Start
Intuitive Control Panel Features a 5-20R 120V Duplex Outlet, an RV-Ready TT-30R 30 Amp Outlet, and an L5-30R 30 Amp Outlet
212cc Westinghouse 4-Stroke OHV Engine; Long Lasting Cast Iron Engine Sleeve; Automatic Low Oil Shutdown
Plug-and-Play! Comes With Oil, Oil Funnel, Tool Kit, and User's Manual; Minimal Assembly Required (Wheel Installation and Battery Hookup)
<Click Here For A More In-Depth Westinghouse WGen5500 Review>
---
Guide To Choosing The Right 5000 Watt Generator
Now that you have a shortlist, it should be a lot easier to make an informed choice. The right 5,000-watt generator will ultimately depend on your preferences and budget.
What features are you looking for the most? Wattage, run times, fuel efficiency, warranty coverage?
Where do you plan to use the generator, and how often?
How much is your budget?
Your answer to these questions will determine which of these 5,000-watt generators to choose.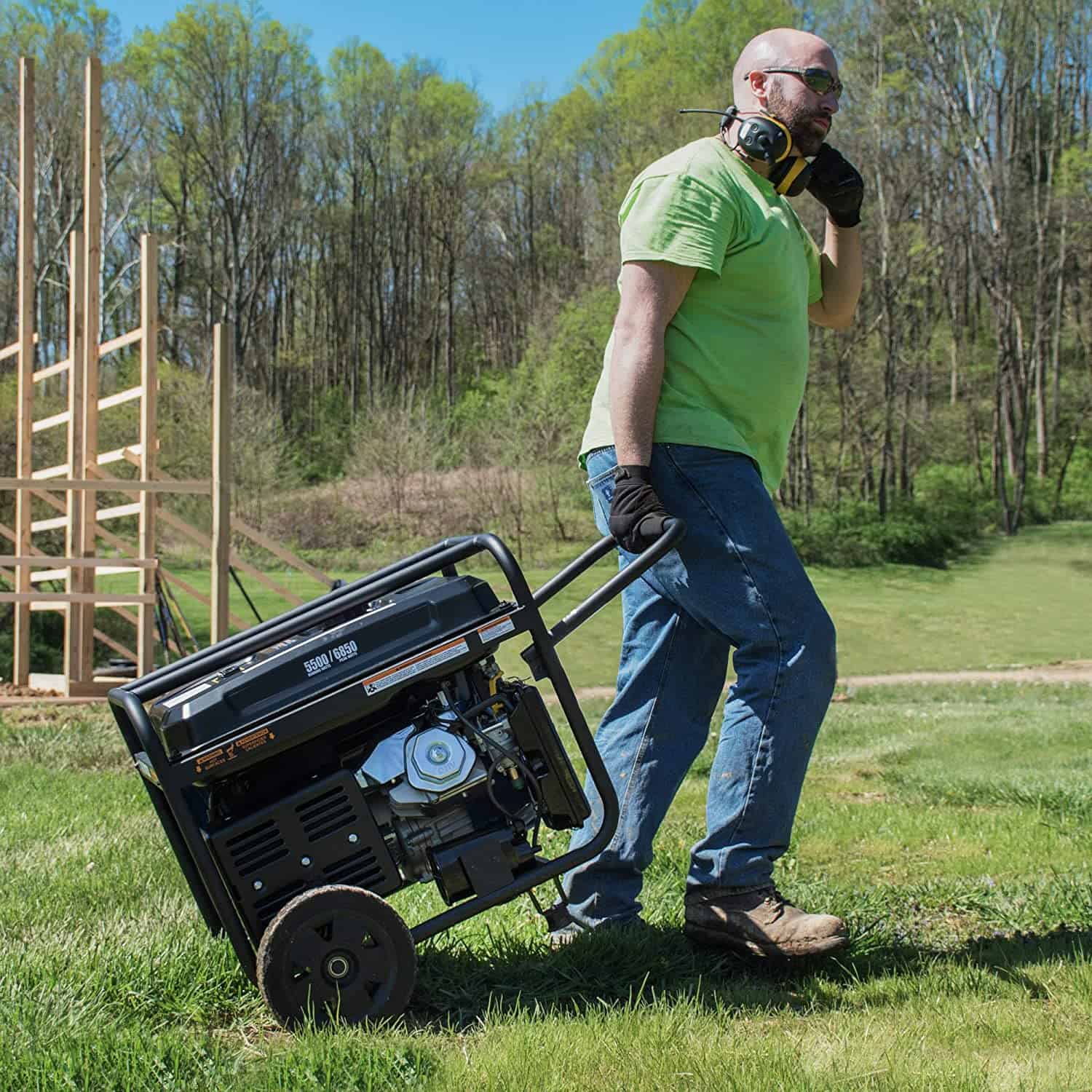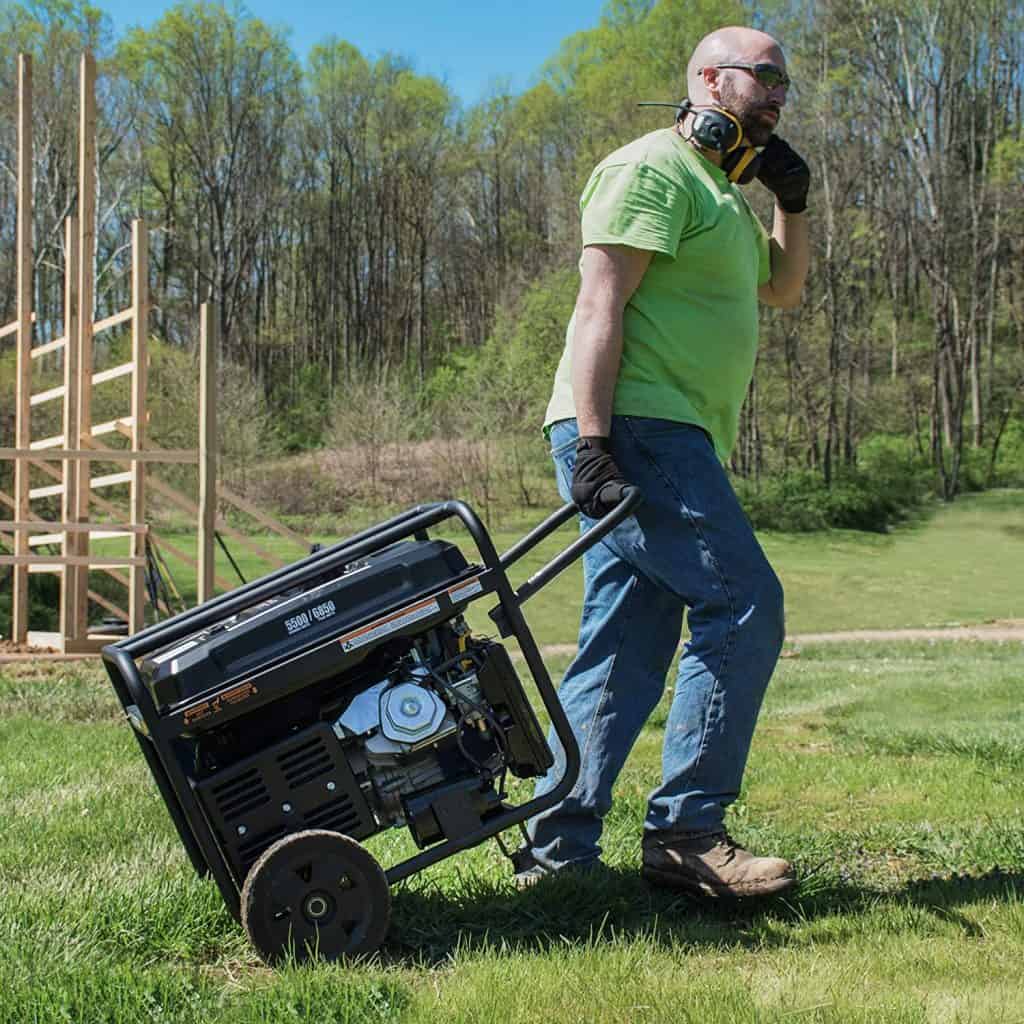 What Can I Run With A 5000 Watt Generator?
As previously mentioned, a 5,000-watt generator can run pretty much all your standard home appliances, including the refrigerator, sump pump, entertainment system, handheld gadgets, lights, fan, and possibly even an air conditioner.
It should also be able to handle a couple of heavy-duty power tools. That being said, you should be prudent about what you connect and not go above the manufacturer's recommendations.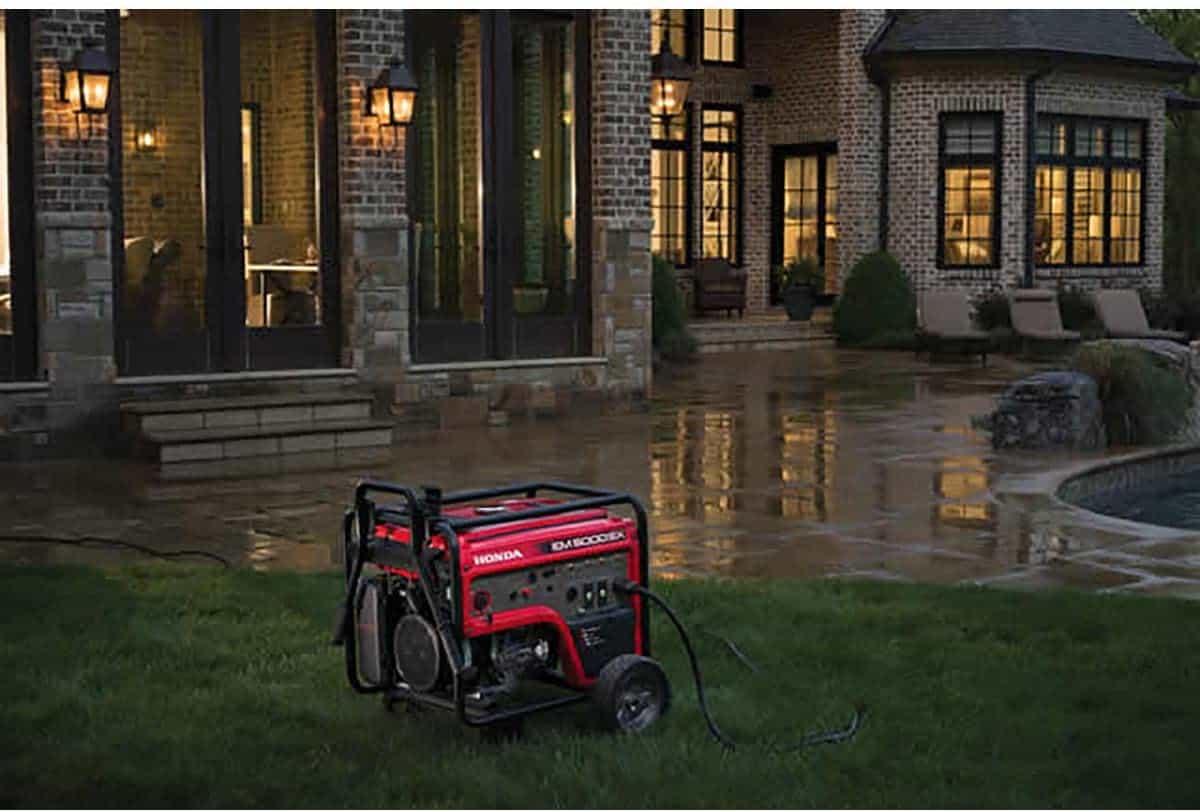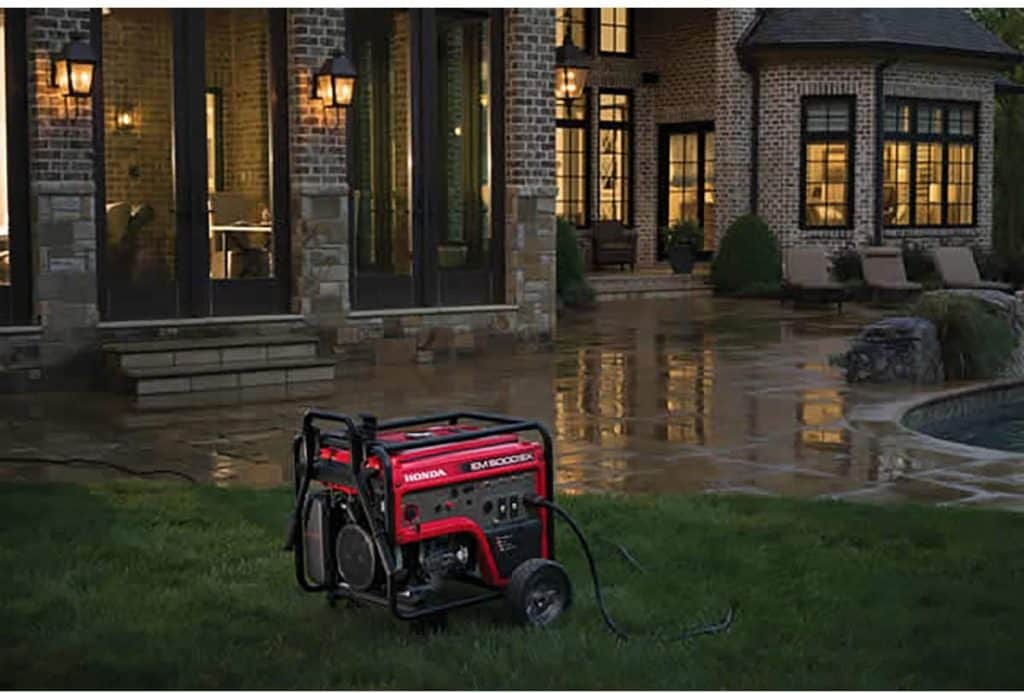 What Is the Quietest 5000 Watt Generator?
On this list, that award goes to the A-iPower AP5,000V Gas portable generator at a mere 58dBA noise level rating. Overall, we'll have to give it to the Honda EU7000IS inverter generator, which has a 52 dBA rating at 25% load.
---
Comparison of The Best 5000 Watt Generators
Westinghouse WGen 5500 Portable Generator

Start - Electric, remote
Fuel - Gasoline, Propane
Noise Level - 72 dBA
Engine - 212cc Westinghouse 4-Stroke OHV
Portable - Yes

Honda EM5000SX Portable Generator

Start - Electric
Fuel - Gasoline
Noise Level - 63 dBA
Engine - 389 cc Honda iGX390 OHV 4-stroke engine
Portable - Yes

Generac 6672 5,500-Watt

Start - Electric
Fuel - Gasoline
Noise Level - 71 dBA
Engine - 389cc OHV engine
Portable - Yes

Champion 5,500 Watt Dual Fuel

Start - Electric, Battery
Fuel - Gasoline, Propane
Noise Level - 74 dBA
Engine - 389cc Champion engine
Portable - Yes

A-iPower AP5000V Gas

Start - Manual
Fuel - Gasoline
Noise Level - 68 dBA
Engine - 223cc/7.5hp OHV
Portable - Yes
Summing Up
Choosing the best 5,000-watt generators on the market today doesn't need to be a complicated process. My top five picks are great choices in their own right. While I may have awarded the Westinghouse WGen the best 5,000-watt generator, any of the other models will definitely serve you well.
Honda 663640 EM5000SX 120V/240V 5000-Watt 389cc Portable Generator with Co-Minder
5,000-watt generator can power countless devices and appliances
Use to power your fridge, furnace, well pump, or other equipment around your home
Intelligent Automatic Voltage Regulation technology keeps voltage stable during operation for consistent power output
7,000-watt starting power for high initial amp equipment
Runs for 11.2 hours at 50 percent power; full power lasts 8.1 hours