Inverter generators are considered the best portable power sources for a reason. A generator can be a lifesaver in an emergency power outage or even during camping. Inverter generators are known for their efficiency — the best inverter generator can run longer and quieter, providing a stable source of energy without sacrificing portability. Narrow down your choices with my inverter generator reviews.
Best Inverter Generators: My Top Picks
When shopping for the best inverter generator, it can be hard to narrow down your options. What provides the best portability, and how much noise level are you willing to sacrifice to get it? How big is too big? What is the difference between all these features?
Deciding which inverter generator is right for you means knowing what technical limitations are most important to your lifestyle. The goal is to pick something suitable for your needs — which can mean different things for different people.
Luckily you've come to the right place. I've tested and reviewed the best inverter generators on the market to make your decision easier.
If you are a little short of time, I have put together a table that compares each of my 10 picks' main features. However, I would encourage you to read the whole guide as some very useful information is contained within it.
Model
Dimensions
Weight
Noise Level
Features
Buy
WEN 56200i
18" x 11" x 18"
48 lbs
53 dBA

Lightweight
CARB Compliant
Extremely Quiet

Check Current Price
Westinghouse WGen3600DF
23.3" x 22.8" x 21.3"
109 lbs
68 dBA

Plug-and-Play
Consistent Power
Rugged Build
Easy to Use

Check Current Price
Champion 3400
25" x 17" x 18"
95 lbs
59 dBA

Duel Fuel
Easy to Transport
Low Oil Shut-off
Electric Start

Check Current Price
Westinghouse iGen 2500
19.8" x 11.4" x 17.9"
46 lbs
52 dBA

LED Screen
CARB Compliant
Spark Arrestor

Check Current Price
Yamaha ef2000isv2
19.3" x 11" x 17.9" "
44 lbs
51.5 dBA

Portable
Long Run Time
Smart Throttle
CARB Compliant

Check Current Price
Champion 3100
69" x 49" x 50.5"
96.8 lbs
58 dBA

Quick Touch Panel
Ultra Quiet
Clean Power
Remote Start

Check Current Price
Briggs & Stratton P2200
52" x 35" x 43"
53 lbs
59 dBA

Fuel-Efficient
Quiet Power
Parallel Port
Long Run Time

Check Current Price
Champion 3800
26.3" x 24.8" x 22.9"
119 lbs
68 dBA

Dual Fuel
Powerful Engine
Electric Start
Low Oil Shut-Off

Check Current Price
Generac IQ2000
20" x 12.6" x 16.9"
46.5 lbs
53 dBA

Super Quiet
Easy to Read LED
Lightweight
Latest Technology

Check Current Price
Honda EU3000IS
25.8" x 18.9" x 22.4"
131 lbs
49 to 58 dBA

Super Quiet
Fuel-Efficient
Long Run Time
Low Oil Shut-off

Check Current Price
Below is the list of my top choices, each portable and efficient in its own way. My goal is to provide you with an in-depth review of each so that you can weigh the pros and cons of the best inverter generators for yourself. With these reviews, I hope to make your decision-making process a lot easier as you start on your inverter generator journey.
1. WEN 56200i
The WEN 56200i is my favorite mostly because of the balance it strikes. You get clean power without a lot of noise. The engine runs at just 51 dB at a quarter load, making it perfect for a discreet 2000 watt inverter generator to use in the background during various situations. If you are like me and enjoy camping and tailgating, the WEN 56200i won't disappoint you as it is one of the lightest generators in its class, weighing in at just 48 pounds.
It's designed with advanced inverter circuitry, limits the harmonic distortion to less than 0.3% with no load, and only dips to 1.2% while running at full capacity. That means you can trust it to handle big loads while also protecting your sensitive electronics from harmful power surges.
The WEN 2000 Watt generator produces 2,000 surge wattage and 1,600 running wattage. This fuel-efficient inverter generator has a tank size of 1 gallon, which provides over 6 hours of 50% load run time. The only downside I could find is that it can be difficult to refill the oil due to the location of the fill port.
I can fairly say that WEN 56200i is one of the best inverter generators out there with a ton of great features.
Pros
One of the quietest inverter generator models on the market
Clean, safe energy without fluctuations
Lightweight and easy to transport
CARB compliant
Cons
Oil can be difficult to refill
Conclusion: After testing out the WEN 56200i at this price point, all I can say is that's a fantastic purchase (as its big brother, the WEN 56310i). It performs incredibly well and has plenty of useful and intuitive features that enhance user experience. At half the price of some of the comparable inverters, I can safely recommend the WEN 56200i. It's an excellent choice for anyone looking for a sturdy and reliable inverter generator.
WEN 56200i 2000-Watt Gas Powered Portable Inverter Generator, CARB Compliant
Dimensions: 18" x 11" x 18" | Weight: 48 lbs
Noise Level: 53 dB operation
EPA III and CARB Compliant 79.7 cc 4-stroke OHV engine produces 2000 surge watts and 1600 rated watts
Great for campgrounds, construction sites, tailgates, and power outages
Produces clean power to safely operate and prevent damage to sensitive electronics such as phones, tablets, televisions, and computers
<Click Here For A More In-Depth WEN 56200i Review>
---
2. Westinghouse WGen3600DF
The second-best inverter generator on my list comes with everything you need. It's rugged, so you know that it's ready for a day out camping or powering a travel trailer when there's no power supply available. The Westinghouse WGen3600DF is known for being lightweight and packed with plenty of advanced features that make it useful during a blackout.
I've got to warn you that I found it comparatively heavier and louder than some of the other inverters listed here, but it is also guaranteed to provide consistent, stable power every time you need it.
The Westinghouse inverter generator has a rated wattage of 3600 and a starting wattage of 4650, running time of up to 13.5 hours on a 4-gallon fuel tank with a built-in fuel gauge. Additionally, it can work up to 10.5 hours on a 20 lb. propane tank.
Pros
Consistent power
Easy to carry
Sturdy build
Simple to use
Conclusion: Though it's one of the more expensive and bulky inverters on this list, the Westinghouse WGen3600DF certainly gets the job done. I was impressed with its sturdy construction, meaning it was ready to power my needs when on RV and camping trips. It's a robust 3600-watt inverter generator with a reasonable price tag and a plethora of great features not many inverter generators can match.
Sale
Westinghouse Outdoor Power Equipment WGen3600DF Dual Fuel (Gas and Propane) Electric Start Portable...
3600 Rated Watts & 4650 Peak Watts (Gasoline); 3240 Rated Watts & 4650 Peak Watts (Propane); 4 Gallon Fuel Tank (with Fuel Gauge); Electric Push Button and Remote Start
Intuitive Control Panel Features a 5-20R 120V Duplex Outlet, an RV-Ready TT-30R 30 Amp Outlet, and an L5-30R 30 Amp Outlet
212cc Westinghouse 4-Stroke OHV Engine; Long-Lasting Cast Iron Engine Sleeve; Automatic Low Oil Shutdown
Plug-and-Play! Comes With Oil, Oil Funnel, Tool Kit, and User's Manual; Minimal Assembly Required (Wheel Installation and Battery Hookup)
<Click Here For A More In-Depth Westinghouse WGen3600DF Review>
---
3. Champion 3400
This dual-fuel inverter generator is perfect for anyone looking for a powerful and quiet camping generator. The Champion 3400 (from Champion Power Equipment) is light enough to carry and pack away for a long weekend but hearty enough to power even the AC in an RV.
I was amazed at how quietly it runs and what it could run — especially without the premium price of other models like Honda — the 3400 could power everything you need on a camping trip to a refrigerator, even on economy mode. Not bad for a portable inverter generator!
The amount of time you can use the 3400 will vary based on the fuel type you're using. With gasoline, you can enjoy your Champion 3400 for 7.5 hours. That run time stretches to 14.5 hours on propane, which is an impressive timeframe if you ask me.
Starting or surge wattage is 3400, whereas running wattage is 3100.
Pros
Dual fuel generator
Quiet yet relatively powerful
Easy to move around
Low oil shut-off
Cons
Requires a battery if you use gasoline
Conclusion: After using it for just a short time, I quickly discovered that the Champion 3400 lives up to the name and runs like a champ. It ensures reliability, quiet, and power, all without losing user-friendliness. This dual fuel inverter generator is definitely worth every cent with all these features.
Champion 3400-Watt Dual Fuel RV Ready Portable Inverter Generator with Electric Start
Dual Fuel – Operate your 3400-watt portable generator right out of the box on either gasoline or propane, plus the unit holds 0.6-quarts of oil (recommended 10W-30) and has a low oil shut-off sensor
Convenient Electric Start with 3-Position Ignition Switch – Battery included, plus Quick Touch Panel allows you to access all your controls in one spot.Noise Level:59 dBA at 23 feet. Frequency 60...
Ultra-Quiet Operation – 59 dBA is perfect for RVs, tailgating, your next project, or backup power for your home, featuring 3400 starting watts and 3100 running watts with up to 7.5 hours run time on...
Clean Power for Sensitive Electronics – RV Ready with a 120V 30A RV, plus two 120V 20A household outlets with clean electricity (less than 3% THD) and a 12V DC outlet with a dual USB adapter
Champion Support – includes 3-year limited warranty with FREE lifetime technical support from dedicated experts
<Click Here For A More In-Depth Champion 3400 Review>
---
4. Westinghouse iGen 2500
There's a reason Westinghouse has two inverters in my top five—they're one of the most renowned companies when it comes to the best portable inverter generators. The iGen 2500 is another in a long line of reliable Westinghouse inverter generators, a tool you can count on to meet power needs during an emergency outage or just for outdoor fun when on a camping or fishing trip.
This portable generator provides dependable, clean power with minimal distortion. So I had no worries using this inverter generator to fuel my more delicate electronic devices like my TV or computer when at home or in the great outdoors.
Unfortunately, one issue I did find with it was that it's not the easiest generator to transport, as it lacks wheels like some other models on this list. On the other hand, I did appreciate the handy LED screen, which provides me with easy access to everything going on with the inverter, from the voltage to the fuel amount—even the average electricity used, which comes in handy when I'm on longer trips.
Surge wattage is 2500 and running wattage 2200.
Pros
Easy-to-use and equipped with LED screen
Safe for more delicate electronics
Comes with a spark arrestor
Good price point
Cons
Not recommended for heavy power tools
Difficult to transport
Conclusion: After putting the Westinghouse iGen 2500 through its paces, my conclusion is that it's an outstanding choice for anyone looking for an efficient inverter generator that still puts out a lot of power. Especially for its price point, the iGen 2500 is simple to use, generates cleaner, reliable energy, and protects your electronics. The only downside that I found was the lack of wheels, making it quite challenging to transport. In terms of performance, however, I haven't found an inverter generator that matched it.
Sale
Westinghouse iGen2200 Super Quiet Portable Inverter Generator 1800 Rated & 2200 Peak Watts, Gas...
1800 Rated Watts and 2200 Peak Watts at Less Than 3% THD - Weighs Only 46 Lbs. - Gas Powered - Two 120V 20 Amp Outlets, Two USB Outlets
Great Choice for Home Use as an Emergency Backup in a Power Outage - Strong Enough to Run All Your Home Essentials
Extremely Quiet, Extremely Fuel Efficient: as Low as 52 dBA Noise Output and 12 Hour Run Time on a 1. 2 Gallon Gas Tank - Features "Economy Mode" for Maximum Fuel Efficiency
Parallel Capable - Combine Your iGen2200 with the Westinghouse WH2200iXLT, iGen1200, iGen2200, and iGen2500 to Increase Available Wattage and Amperage (Requires Westinghouse Parallel Cord)
All Westinghouse Portable Generators are Functionally Tested in the Factory and May Contain Minimum Residual Oil and/or Fuel Odor; EPA and CARB Compliant; Backed by 3-Year Limited Service, Labor, and...
<Click Here For A More In-Depth Westinghouse iGen 2500 Review>
---
5. Yamaha ef2000isv2
I thought I wasn't going to like the ef2000isv2 when I discovered it had a pull start instead of an electric start button. But my initial doubts were soon gone as I discovered how easy it is to start this generator. I found it easy to operate, uncomplicated to link up to appliances, and with a few strokes, I was off to the races!
The Yamaha ef2000isv2 weighs in at just 44 pounds, meaning it's convenient enough to take anywhere. It's ideal for things like camping trips, where you need a lot of maneuverability without sacrificing support time. With a tank size of 1.1 gallons, this Yamaha generator has a run time of approximately 10.5 hours. Which, considering its size, is very impressive.
It's also one of the quietest and most reliable inverter generators I've found, running between 51.5 and 61 dB while using its Pulse Width Modulation system to stabilize the output. This machine is an ideal option for those who prize quiet with their inverter generator but still want consistent power.
Surge wattage is 2000 and running wattage 1600.
Pros
Lightweight and portable
Smart throttle
Impressive output (peaks at 2,000 watts)
Long run time
Conclusion: This is the generator to pick if you want to ensure quality performance. Yamaha is a trusted brand for portable generators for a reason, and the ef2000isv2 only proves why the brand is so famous. Its easy-to-use design and excellent inverter system make it a reliable investment with a long shelf life.
<Click Here For A More In-Depth Yamaha ef2000isv2 Review>
---
6. Champion 3100
Especially for an inverter generator of this size, the Champion 3100 from the Champion Power Equipment company is an excellent specimen. It's got a powerful output — with 3,100 surge wattage and 2,800 running watts — which allows it to run large appliances within or outside the home.
Its features don't stop there, either. A quick-touch control panel provides convenient access to controls you need during operation. You can fire the 3100 up with just a flick of the ignition switch, which is an incredibly convenient feature.
While it's overall pretty quiet as inverters go, the noise will get louder when it's running a heavier load. With a standard level of output, though, you can trust it to be about 58 dB.
Pros
Can support big appliances
Easy touch panel for operation control
Relatively quiet when run at a standard level of output
Compact design
Remote start
Cons
Noise level increases with heavier loads
Conclusion: I really like the Champion 3100. It's a powerhouse that can support larger appliances without a problem. It also has easy controls without sacrificing those shiny features we all love. In my opinion, this is one of the best deals you can find for an inverter without paying a premium price.
CHAMPION POWER EQUIPMENT 3100-Watt RV Ready Portable Inverter Generator
Quick Touch Panel – Access all your controls in one spot, plus Champion's safe design includes a low oil shut-off sensor and holds 0.6-quarts of oil (recommended 10W-30)
Ultra-Quiet Operation – 58 dBA is perfect for RVs, tailgating, your next project, or backup power for your home, featuring 3100 starting watts and 2800 running watts with up to 8 hours of run time
Clean Power for Sensitive Electronics – RV Ready with a 120V 30A RV, plus two 120V 20A household outlets with clean electricity (less than 3% THD) and a 12V DC outlet
Smart Economy Mode – Can reduce the electrical load, providing quieter operation, extended engine life, and better fuel economy
Champion Support – includes 3-year limited warranty with FREE lifetime technical support from dedicated experts
<Click Here For A More In-Depth Champion 3100 Review>
---
7. Briggs And Stratton P2200
Why give up the finer things for a night of camping? That's exactly the kind of compromise you can avoid when you have the Briggs and Stratton P2200. Whether you're in the middle of a tailgate party or a job site, you can trust the P2200 to deliver stable (and quiet) power to all your devices.
On the other hand, unlike other Briggs & Stratton products, this one has a reputation for quality control issues. Some units stand the test of time, while others don't last the summer. Fortunately, Briggs and Stratton are great about honoring their warranties (24 months in this case).
Thanks to cutting-edge inverter technology, the P2200 outputs a steady 1,700 watts of running power, with less total harmonic distortion (THD) than other inverters on this list. It can also adjust its power level to match its load — meaning you'll save fuel and can trust the P2200 to run longer and more efficiently.
The model produces 2200 starting wattage and has a running wattage of 1700.
Pros
Stable power
Automatically adjusting energy speed
Low noise level
Long run time
Conclusion: I found the Briggs and Stratton P2200 to be a powerful inverter, and I can use it for outdoor activities near my house, and it can provide steady power for my tools or tailgating. In a nutshell, it has enough power to keep all my devices running, generates little noise, and is able to run for a long time.
Sale
Briggs & Stratton P2200 Power Smart Series Inverter Generator with Quiet Power Technology and...
Quiet and fuel-efficient 111 cc OHV engine produces 2,200 starting watts and 1700 running watts
The USB port allows charging of portable electronics in order to stay connected. Muffler: Super Lo-tone. Start type: Recoil
Parallel connector port allows connection between 2 units for more power
1-gallon fuel tank for Up to 8 hours of continuous operation at 25% load, USB port allows charging of portable electronics in order to stay connected
The parallel connector port allows connection between 2 units for more power; Muffler: Super Lo Tone. Start Type: Recoil
<Click Here For A More In-Depth Briggs & Stratton P2200 Review>
---
8. Champion 3800
If you're looking for an affordable and adaptable power solution, the Champion 3800 is a great choice to make when it comes to getting an inverter generator.
It provides excellent value for its price level. It works tremendously when powering something that requires more output, like home during an outage or an RV during a camping trip. It's easy to use and reliable for everything from emergency power to your home.
After choosing either gas or propane, the 3800 can easily start with the touch of a button and run a massive 3,800 running watts. All that power can last for nine hours at a 50% load—but it won't be quiet. Expect this one to run around 68 dB on average.
The Champion engine produces a starting wattage of 4750 and 3800 running watts.
Pros
Powerful
Affordable
Dual fuel
Touch start
Conclusion: The Champion 3800 portable inverter generator certainly lives up to its name with a ferocious output of 3,800 running watts (and 4,750 starting watts). I loved the dual-fuel function and the touch start button that make it a breeze to use, no matter the circumstances. That said, it is a bit louder running than some of the other inverters I've tested. This didn't come as a surprise to me, though, considering its power.
Champion Power Equipment 76533 4750/3800-Watt Dual Fuel RV Ready Portable Generator with Electric...
Dual Fuel: Operate your 3800-watt portable generator right out of the box on either gasoline or propane, plus the unit holds 0.6-quarts of oil (included) and has a low oil shut-off sensor
Electric Start: Power up the 224cc Champion engine with the handy toggle switch, battery included
Intelligauge: Keep track of voltage, hertz, and run-time hours to easily monitor power output and track maintenance intervals. Dimensions-26.3 x 24.8 x 22.9 inches
Outlets: One 120V 30A RV outlet (TT-30R), one 120V 30A locking outlet (L5-30R), and two 120V 20A household outlets (5-20R) - trust Volt Guard built-in surge protector to prevent overloads
Champion Support: Includes 3-year limited warranty with FREE lifetime technical support from dedicated experts
<Click Here For A More In-Depth Champion 3800 Review>
---
9. Generac IQ2000
The Generac IQ2000 is an all-around attractive inverter generator. It's got a sleek modern design, stable performance, and an appealing price. This means it has everything necessary to include it on the list of my best inverter generators.
It's easy to look at the IQ2000 as a one-stop solution to backup power problems because it has it all. The IQ2000 is easy to control and has an impressive performance life, lasting nine hours on approximately a gallon of gas.
Though the IQ2000 is easy to maintain and tune-up, this portable generator can only handle so much. I would recommend it for powering smaller electronics and appliances, as it can only sustain one big device at a time.
The model produces 2000 starting wattage and has 1600 running watts of power.
Pros
Easy to regulate and read operations
Excellent engine
Affordable
Fuel efficient
Cons
A bit underpowered—not good at powering more than one big device at a time
Conclusion: After testing it out, I can say that this Generac inverter generator is easy to use, provides premium performance, has a high fuel efficiency level, and is extremely portable. Additionally, I rate it very intuitive to use, with its sleek LED display that helps you switch through different modes and even hook up a parallel kit if necessary. On the other hand, I wouldn't say it's the best choice when it comes to providing power to larger devices.
Generac 6866 iQ2000 Super Quiet 1600 Running Watts/2000 Starting Watts Gas Powered Inverter...
AC Rated Output(Running/Starting): 1600/2000 Watts; AC Rated Voltage: 120V
PowerDial integrates start/run/stop functions into 1 easy-to-use dial
PowerBar monitors and displays wattage used; Electronic Fuel Gauge displays remaining fuel; Runtime Display shows how much time is left before refueling
Fuel Capacity: 1.06 Gallons; Runtime (50% - 25% Load): 5.7 - 7.7 hrs; Full Load Fuel Consumption (gallons/hour): 2.85; Displacement: 80 cc; Oil Type: SAE 10W-30
Economy, Standard, and Turbo modes of operation saves fuel and reduces noise
<Click Here For A More In-Depth Generac IQ2000 Review>
---
10. Honda EU3000IS
There's a reason this is one of the most highly praised portable generators available on the market. What this generator lacks in portability and price, it makes up for in reliability and power, making it an excellent choice.
Honda's inverter technology makes power that is much more stable and consistent. That helps protect your devices from surges that can damage their efficacy. It's known as one of the best 3,000-watt models available, and with 2,800 watts of continuous power that make it a versatile engine, you can feel comfortable running air conditioning, lights, even appliances in your home without worrying that the Honda will drop out.
The Honda EU3000IS is also extremely fuel-efficient, with 3.4 gallons to fill and potentially up to 20 hours of use.
This Honda inverter generator has a surge wattage of 3000 and running wattage of 2800.
Pros
Powerful and reliable engine
Highly fuel-efficient
Long run time
Super quiet at 58 dB
Cons
Heavier than most of the best inverter generators
Conclusion: The Honda EU3000IS highlights why you can trust Honda engines (and the popularity of the Honda eu2200i over decades also attests to the reliability of this brand). It has superb features and the latest innovations in inverter technology to help it run cleaner and more efficiently. Although I found it heavier than expected, I could relax once it was in place and trust it to do its job. It's a long-term investment for sure, but I believe it's worth it.
Check Current Price at HomeDepot
Honda Power Equipment EU3000IS 3000W 120V Portable Home Gas Power Generator
Popular model can operate a wide variety of appliances, including a furnace, fridge, microwave, TV, blenders, most 13,500 BTU RV AC units, and much more
Super quiet: So quiet, your neighbors will thank you; the EU3000is operates at 49 to 58 dB (A), which is less noise than a normal conversation; this makes it ideal for camping, RV power, and any other...
Fuel efficient runs up to 20 hours on 3.4 Gal. of fuel: thanks to our exclusive eco-throttle, the EU3000 offers great fuel efficiency, it runs 7.2 to 20 hours on a single tank, depending on the...
Advanced inverter technology - reliable power for computers and other sensitive equipment: Honda's inverter technology means stable, clean power in a smaller, lighter package; the precision of Honda's...
Protected by oil alert: this protects the generator by shutting the engine off when low oil is detected
<Click Here For A More In-Depth Honda eu3000is Review>
---
What Is An Inverter Generator?
Standard portable generators and inverter generators may power the same devices, but they do not function in the same way. An inverter gets its name from the process that happens when you turn the generator on. The machine converts the voltage using a microprocessor to DC and then "inverts" it back to AC current.
In the end, you're still getting the same output of AC electricity that a conventional portable generator provides, but without the same surges and fluctuations that a standard generator sees. By converting the electricity back and forth, the machine ensures that the power you're getting is "clean," creating a perfect sine wave of energy. That lowers the risk of power surges, which protects devices and creates more stable energy.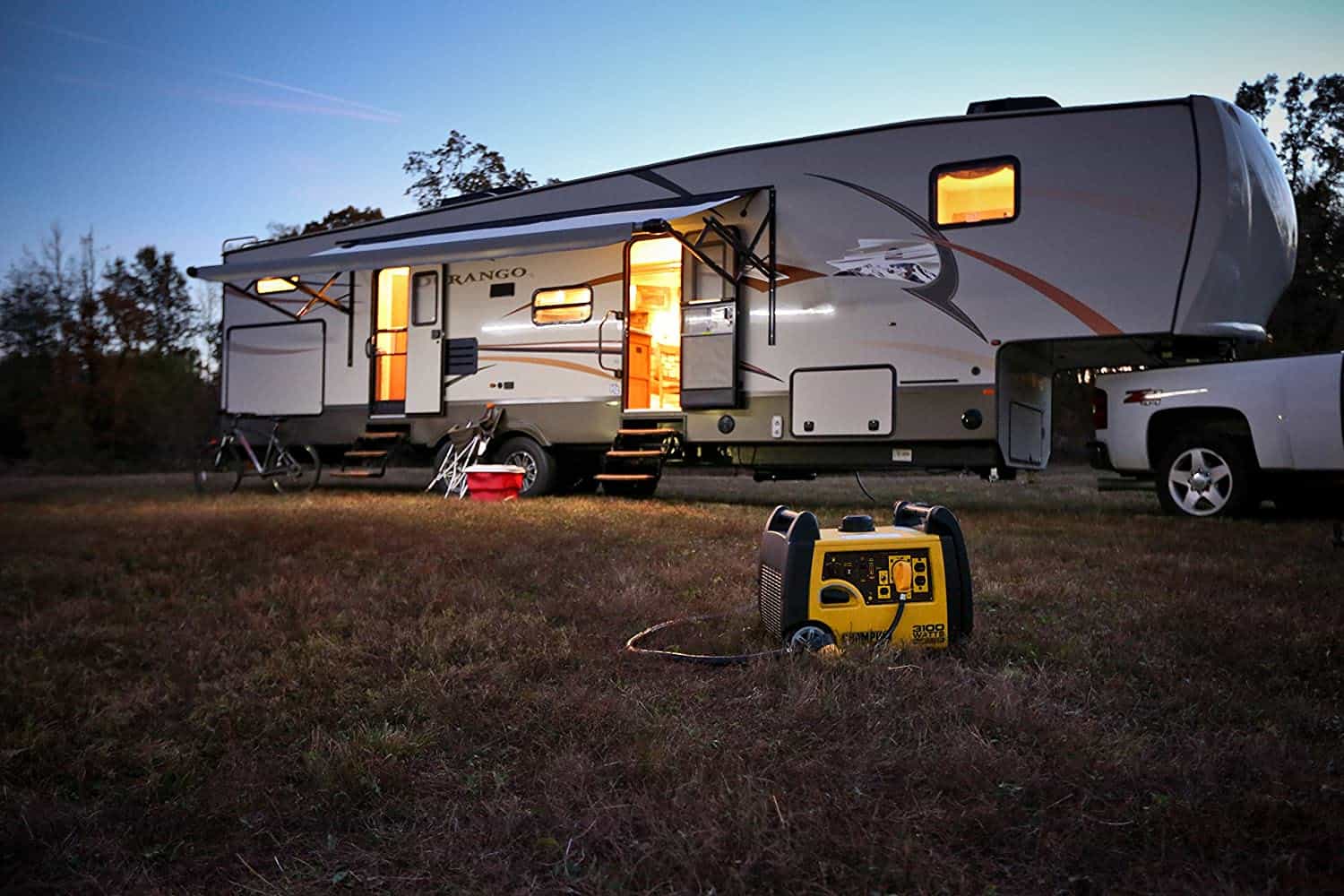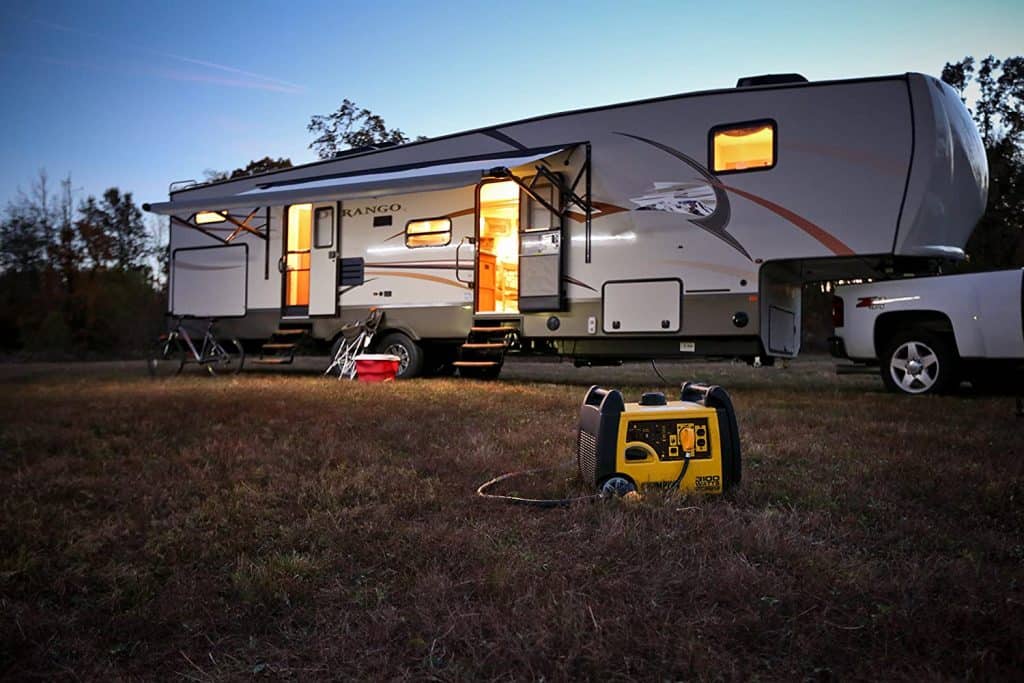 How Does An Inverter Generator Work?
The name "inverter generator" comes from the electrical work the generator is doing when it's running.
As already explained, inverter generators transform DC power to AC power, eliminating any fluctuations that come with it. The generator's alternator produces high voltage power that gets converted to DC, which is then shifted to AC by the inverter.
When it's fired up, an inverter generator throttles the engine to meet your backup power demands. That makes for a more "stable" output of power when it's running. The power that comes with an inverter generator is considered high quality but remains smooth and clean.
---
Inverter VS. Generator: What's The Difference?
The main difference between these two types of generators is how they operate. When you run it, an inverter adjusts its power level based on the devices it's feeding. Instead of running at a constant speed, an inverter is continuously adapting its speed.
That's not the case with a conventional generator. They need a certain speed to deliver 120 volts of electricity — typically 3,000 RPM — and keep a stable current. After getting a boost from your preferred fuel (the most typically used power source), the motor works with the alternator to produce a steady output of electricity.
If your conventional generator's engine speed changes at all, you'll notice it. That fluctuation will result in a vacillation of the frequency of electrical output.
The other main difference would be portability. An inverter generator is smaller, lighter, and may even have wheels, making it easier to bring on the go. That's why portable inverter generators are so popular among campers.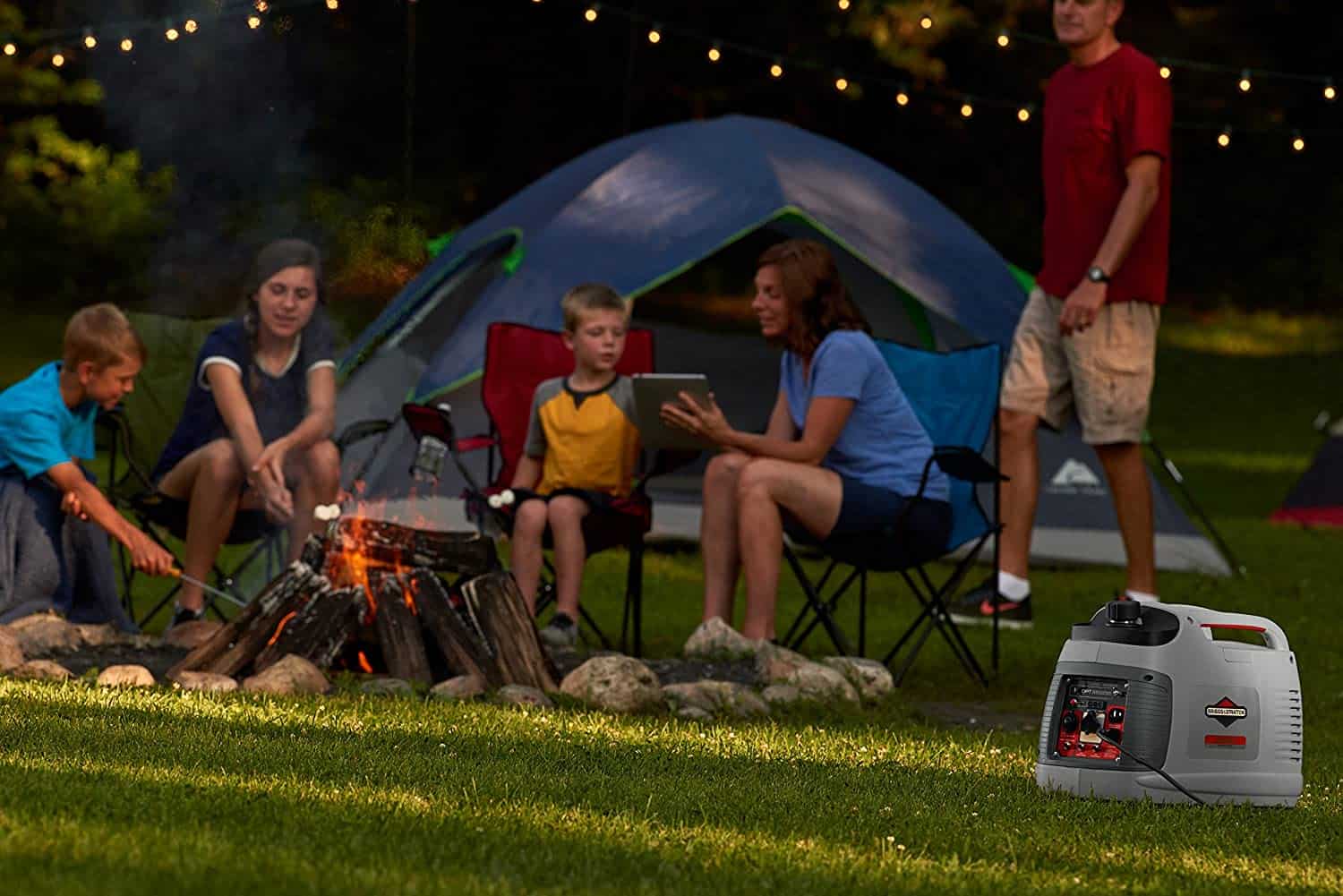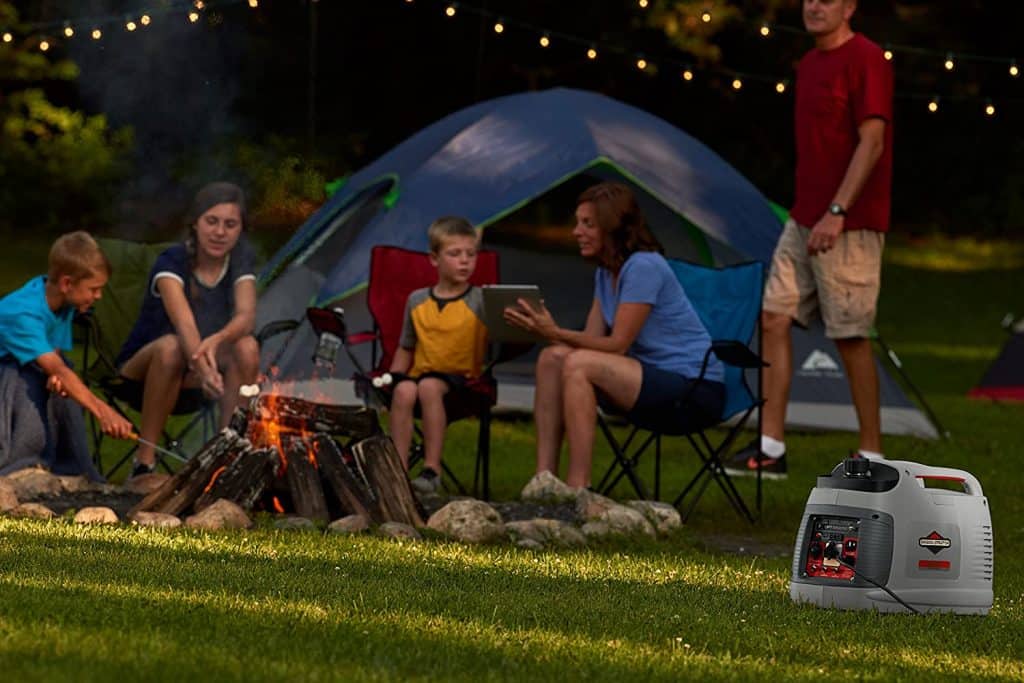 Conventional VS. Inverter: Which Is Better?
There's been a long list of advancements in generator technology lately, which may leave you wondering exactly what an inverter generator is, compared to a standard generator. There are several reasons that an inverter might have more advantages than a conventional generator.
Because the inverter generator is continually varying the amount of power it is generating, its efficiency is higher, and it is generating cleaner electricity. You probably won't need as much fuel because you won't be burning through it as fast.
With an inverter, there's also less technical maintenance required—unlike conventional generators, they don't need any special treatment for standard upkeep. They can be more easily paired with other units for parallel capability without a new transfer switch connection.
They also generally run quieter than your standard generator options, are more lightweight and portable.
---
Inverter Generator Features
What are the features that make an inverter distinct compared to other types of generators on the market? There are several features worth mentioning here, including:
- Design and Output: Inverter generators are designed with portability in mind. In most cases, they're manufactured to have a closed design that is more convenient to move. That limits them to a slightly lower maximum output, but they're still plenty powerful for most jobs, making them a perfect choice for outdoor activities, like camping or fishing trips.
- Safe Energy for Sensitive Electronics: Our sensitive electronics are often the ones we use most. That means our inverters have to be up to the task of powering them without putting them in danger. An inverter's energy output doesn't fluctuate or surge as much as other generators. Closer to a perfect sine wave, inverter generators protect your delicate electronics from power surges that can fry them over time.
- Suitable for Noise Restricted Areas: Most inverters sit between around 61 dB or slightly louder than a normal conversation. That means your inverter generator can run in more places without worry about noise restrictions.
- Better Fuel Efficiency: A gas and propane inverter generator dynamically respond to the load it's working with, meaning it adjusts the fuel need accordingly. As a result, there's a marked difference in how fast a traditional generator burns fuel compared to an inverter.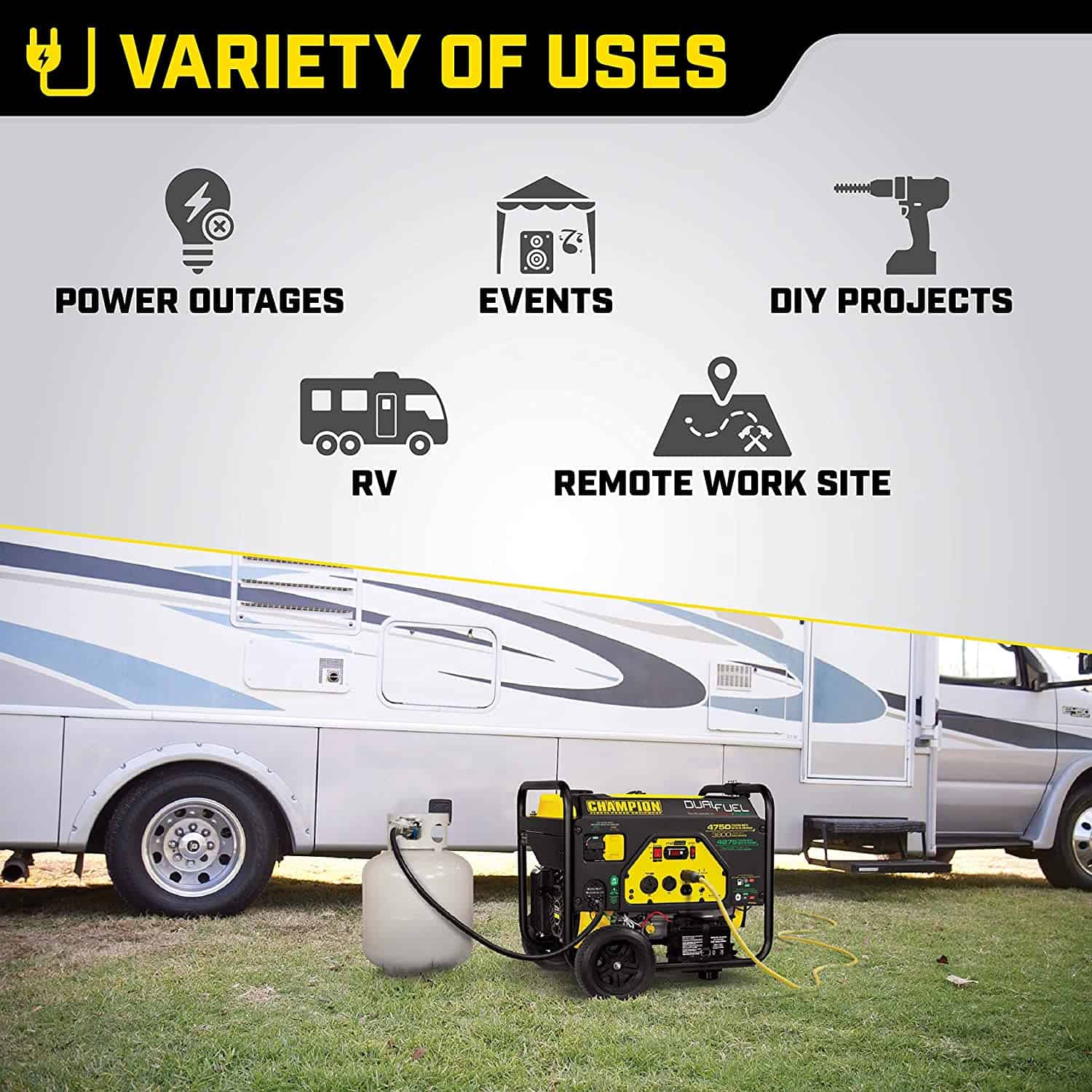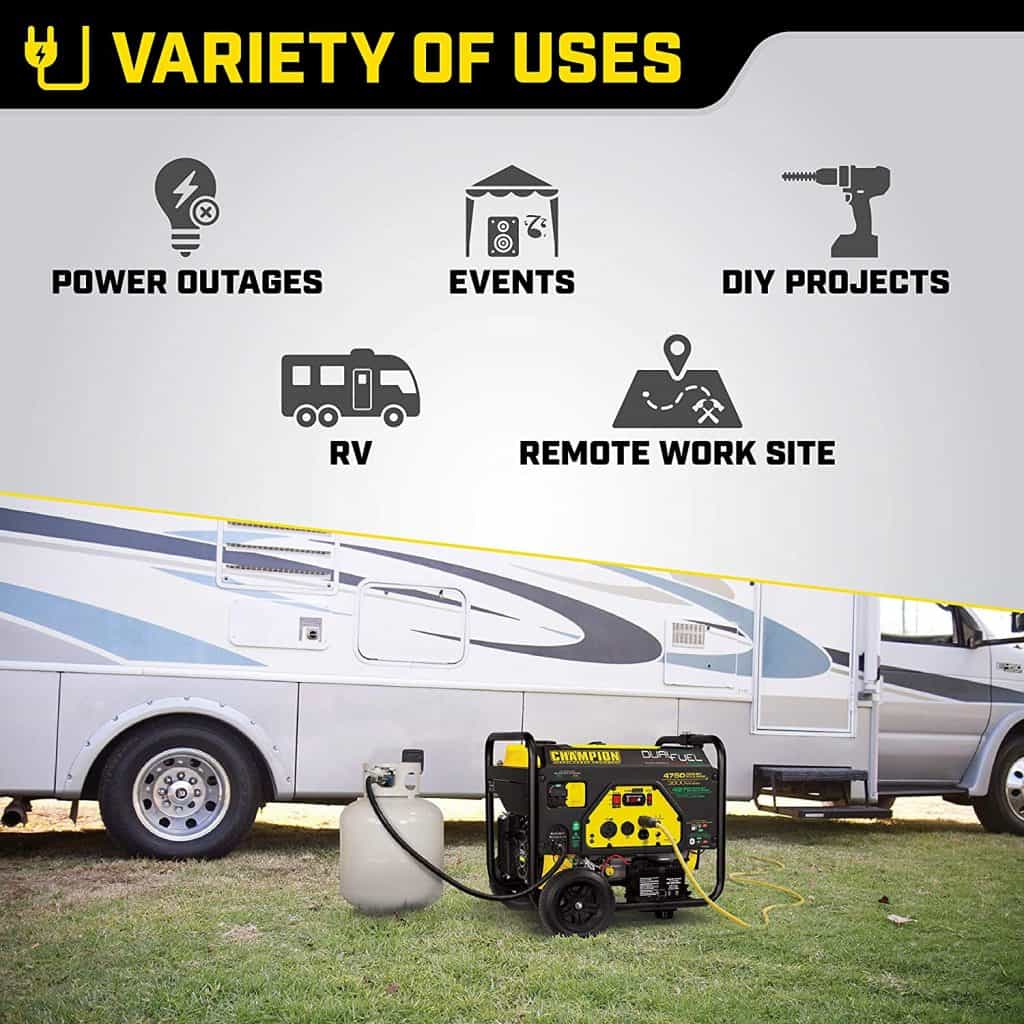 - Parallel Operation: Some inverter generators can connect to another inverter and double their power output using a special cable. Since inverters run smaller and quieter than other generators, that makes it easy to increase your power demands on the go.
- Portability: New inverter generators are quite light, as low as 30 pounds in some cases. Those small engines are more compact than their conventional counterparts. Given how quiet the generators run, they're easy to run and power your devices no matter where you need to go.
- When You Need a Lot of Power: If you're hoping to power every device in your house during an emergency outage, you'll need more than the inverter generator can provide. Inverters are designed for powering select appliances or on a camping trip. Inverters do, however, allow for parallel capability, allowing you to double your output.
- When Price Is Not an Issue: Though inverters have a higher price point than other generators, reviews suggest the features are worth the price—and we agree. An inverter provides many advantages to conventional generators, including that they're more fuel-efficient and portable than other types of generators.
---
Considerations Before You Buy
Before you decide on picking the best inverter generator possible, you should ask yourself a few questions first. This way, you'll be able to decide what kind of inverter you're looking for, making the whole buying process faster and more informed.
1. Where Do You Plan to Use Your Inverter Generator?
Where you depend on using your device can drastically alter the best inverter generator for you.
Camping, RV
If you're camping or living in an RV and need to move around a lot, it might be more advantageous to find a portable inverter generator that is easy to maneuver. That may leave you with a smaller engine and power output.
For camping, that might be fine since most of what you need to run (a camping stove or charging devices) 1,000 watts or less should be ideal. With an RV, you may require a little more juice for your plugin appliances, which might set you up with a mid-range inverter (with can power between 2,000 to 4,500 watts).
Home Back-Up
In the event of an emergency situation due to an outage, you're going to need a lot of power to support the vital machines and appliances in your home. Most large inverter generators top out at 7,000 watts, which should cover the key devices until the power returns. If you hope for more than that, it might be time to look into a bigger, more conventional generator.
Work Sites
To keep midsize power tools functional at a worksite, you're going to want an inverter with a range of 2,500 to 4,500 watts. A worksite inverter generator should also be relatively easy to move around, so take this into consideration when shopping for one.
2. Noise Level
The closer you plan on being to your inverter while it runs, the more important it is to be prepared to prioritize volume in your selection. Keep in mind that many generators may boast a quieter speed only to be louder when dealing with a heavier load.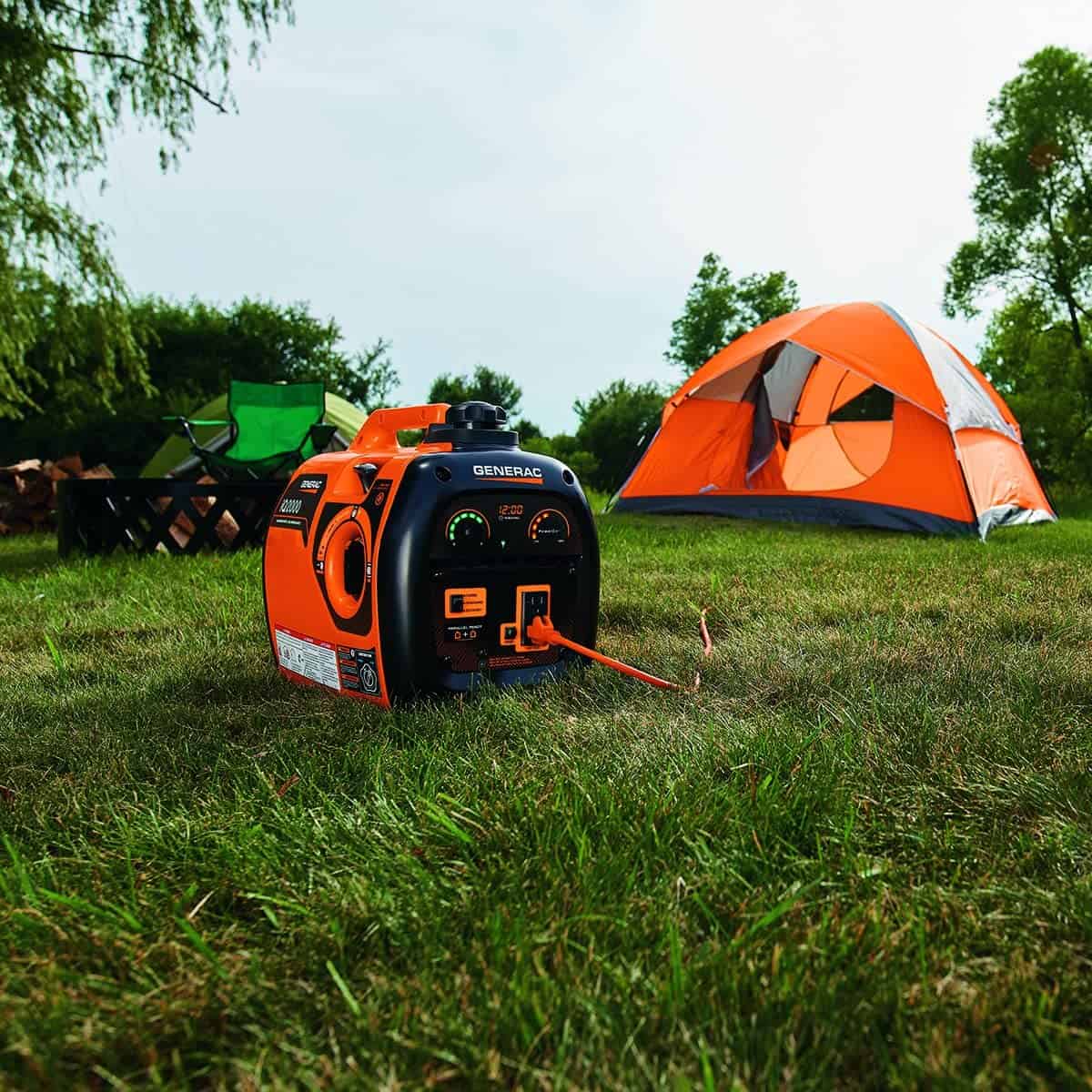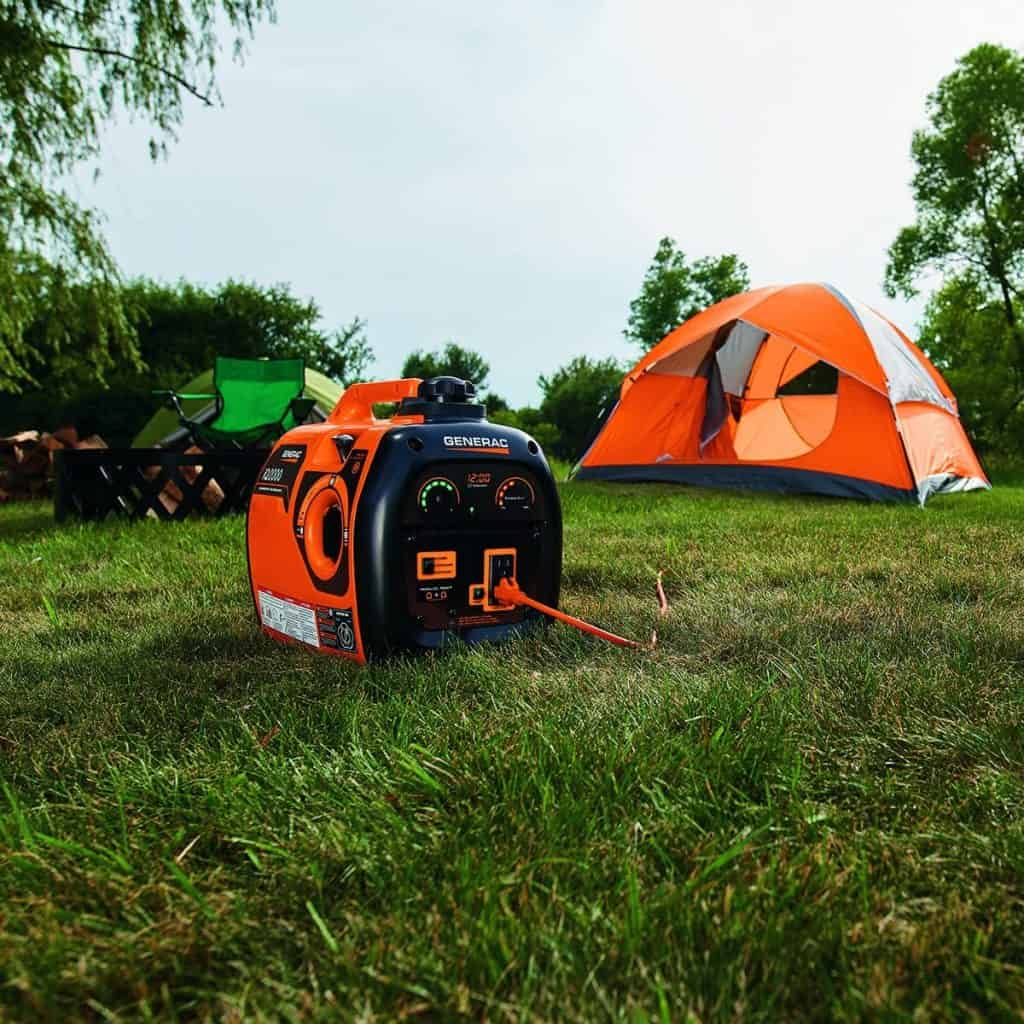 3. Parallel Capability
Simply put, parallel capability refers to running two inverter generators together. Often these are the same brand and size inverters, and the effect is that you double the power.
Not all inverter generators can do this (or do it well), but if you find an otherwise perfect model that lacks power, this might be a good technique to improve its performance. Again, it all depends on your primary needs.
4. Clean Energy
The cleanliness of an inverter generator could be considered two things - certain types of fuel (like propane) will burn cleaner, so you don't need to clean your generator as much, but it also refers to the stableness of the energy source. When inverter generators produce a cleaner sine wave (meaning a steadier source of energy) that protects your devices from surges.
If you plan on using an inverter to power delicate electronics — televisions, computers, and other things with a microprocessor that makes them sensitive to electrical quality — it's crucial to have a generator that can provide the cleanest energy possible. Otherwise, you risk burning them.
---
Avoid These Mistakes When Buying An Inverter
When shopping for an inverter generator, many people make silly mistakes that later lead to wrong purchases. If you don't want to waste your money and buy the right inverter, reading the best inverter generator reviews is not enough. You should also learn from other people's mistakes in order to avoid them. Here's what you should always bear in mind:
Stay focused on how the specifications of the machine can actually serve you, and don't be swayed by flowery language or overpromising on the part of the manufacturer.
It's probably better to buy an inverter from a well-known brand, especially if you're new to inverters. Their customer service is more reliable, and you should expect much better quality.
The best inverter for you won't necessarily be the most expensive. Compare the price at different places and see if you can get everything you need while staying within your budget.
If all else is equal between two inverters, let the best warranty win.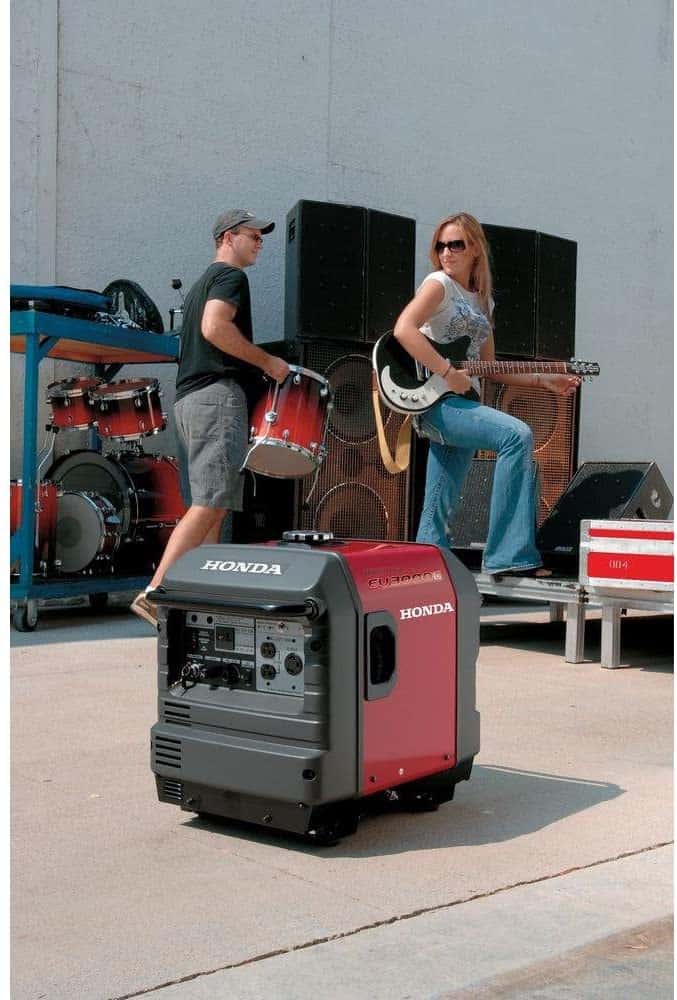 Frequently Asked Questions
Are Inverter Generators Worth It?
We would say so! Although inverters come at a more premium price compared to conventional generators, they are much more adaptable. They're quieter and more efficient. What's more, most of today's inverter generators are equipped with the latest technology to keep them both those things as well as easy to use.
Unless you're looking to power a whole lot in an emergency, inverters manage to more than get the job done. Even better, because they provide more stable, fuel-efficient power, you can likely count on making your money back in the long term.
Can An Inverter Run A Fridge?
They can, though not all of them. You'll want to look at least the midsize range (2,000 to 4,500 watts) if you're hoping to power a fridge in an RV or a home.
Why Are Inverters So Quiet?
There are a few reasons that inverters are considered quieter than their conventional generator counterparts. Their engines are generally smaller and more responsive to the load, meaning they both produce less noise and don't run at the same rate when they're on. Inverter generators are also enclosed, which muffles the noise even further.
Can You Use An Inverter Indoors?
You should not use it indoors, as the exhaust from a generator can be dangerous and deadly in enclosed places. An inverter generator should always be placed outside to let the fumes properly vent.
Can You Get An Inverter Wet?
Getting an inverter wet can increase the risk to both you and your generator. If you plan on leaving it outside (and opening it to elements like rain), keep it under a tent or tarp to lower the risk of shock or damage to the device.
---
Summing Up
When you're buying an inverter generator, it's crucial to think about the situations you will — or may want — to use it in. Though there's plenty of inverters on the market, the one that's "best" will be so because it's the most convenient for you.
The best way to go about shopping for an inverter generator is to establish what features you want and need most. Every generator on this list can provide a good amount of stable power once you start it up, and you can trust that you'll be able to use it for at least nine hours. But that is certainly not the only thing you need to take into serious consideration when you're purchasing an inverter.
Figure out what size, maneuverability, noise level, and power output you need for best use. From there, scroll through our recommendations and see what kind of inverter fits your needs best.
WEN 56200i 2000-Watt Gas Powered Portable Inverter Generator, CARB Compliant
Dimensions: 18" x 11" x 18" | Weight: 48 lbs
Noise Level: 53 dB operation
EPA III and CARB Compliant 79.7 cc 4-stroke OHV engine produces 2000 surge watts and 1600 rated watts
Great for campgrounds, construction sites, tailgates, and power outages
Produces clean power to safely operate and prevent damage to sensitive electronics such as phones, tablets, televisions, and computers